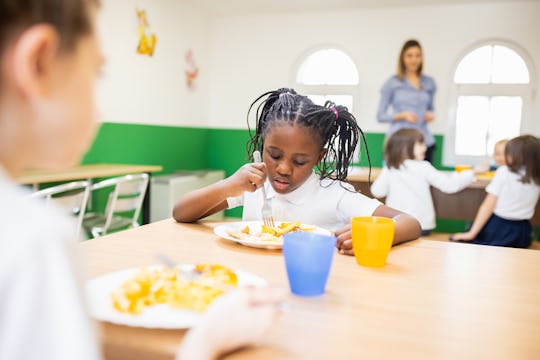 NoSystem images/E+/Getty Images
13 Photos Of School Lunches From All Around The World
These go way beyond pb&j.
Growing up, the best part of the week was pizza Friday, the one day a week when I was allowed to buy lunch. School lunch in the United States seems to have evolved beyond the crustless rectangles of cheesy pizza and slippery green beans I weirdly so enjoyed, but it's always fun to see what school lunches look like around the world. In Italy, school children are accustomed to penne pasta dishes and fresh tomato salads at lunchtime (lucky Italians). In Thailand, lunch is fresh fish and rice with veggies. In Germany, a combination of meat and potatoes or rice is the norm. Russians students are drinking tea (godspeed to the parents of caffeinated children).
Whether your child brown bags it (or more realistically brings lunch in a lunchbox) or they buy it at school, it's interesting to take a glimpse at what kids around the world eat for lunch. And who knows, maybe you'll get some international inspiration to call on the next time you're not sure what to pack for your kids' lunch. Here's what cafeteria food looks like around the world.