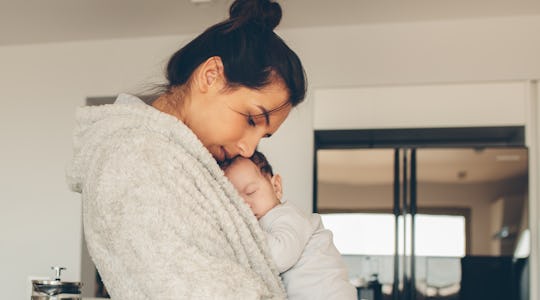 Jacob Lund/Shutterstock
33 Little Things To Do For New Moms That Go A Long Way
Because they need the help.
When my first child was born, any confidence I had about being a competent mom vanished almost instantly. I was a hormonal wreck, terrified of messing up even the most basic baby stuff. (Don't get me started on my anxious vigil for his first poop.) Most overwhelming of all was feeling like I had to stay on top of all the other details of daily life in addition to caring for my son. So when I got offers of help or thoughtful gestures, no matter how small, I was grateful beyond words. Oh, I still wrestled with doing-it-all angst, but I knew that I had a support system to fall back on when I needed it.
If you have a sister, friend, coworker, or someone else in your life who just had a baby, don't hesitate to reach out and help them in some way. Helping a mom is more than just offering babysitting services (though that's a welcome gesture, too). Trust me, the little things mean just as much as the big things. Just taking care of the dishes in the sink when you come to visit, or helping address her thank-you notes for the gifts she just got, will take one less thing off her massive to-do list and make her feel like she might just be able to handle this motherhood business.
These are just a few suggestions of ways to help a new mom. You might have some brilliant ones of your own, depending on who the mom is and what she needs. The important thing is to make it happen, and to let the mother know that you're ready to help. Being specific is best: say, "I'd love to come by and bring you lunch this week; what time would be good for you?" instead of "I'm here if you need me." Reach out today, and both you and the new mom in your life will feel great.