Barbie? Never Heard Of Her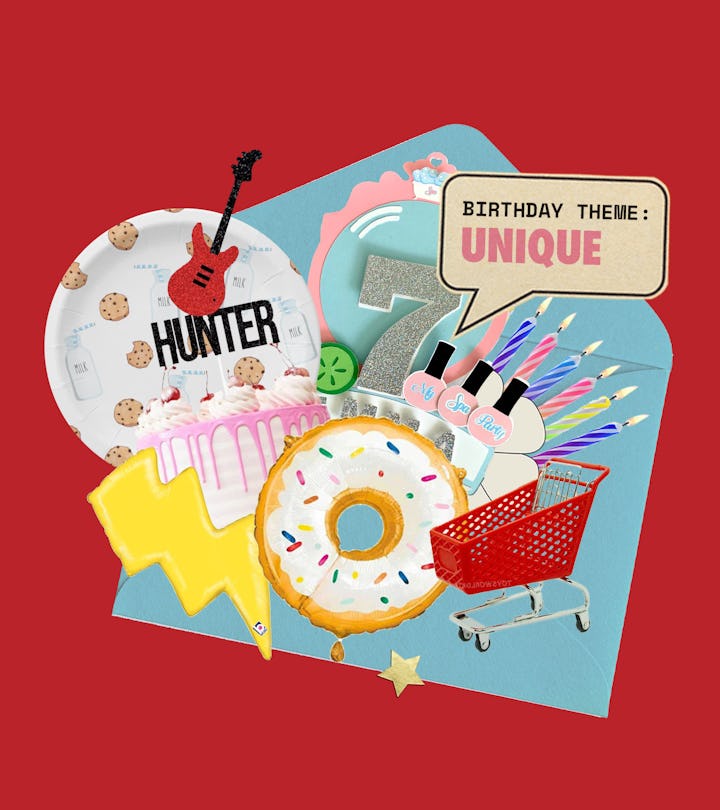 Unique Birthday Party Themes For Your One-Of-A-Kind Kid
Did your kid ask for a Target party? We've got you.
Much like asking a child what they want to be for Halloween, you never really know what a kid is going to say when you ask them what kind of birthday party they want to have. Will they say "water dragons"? Will they ask for a banana party? Will they insist on a theme that celebrates their love for Target and the brand's Dollar Spot? It could be literally anything, and I advise you to just go with it. What's more fun than throwing a party where your only creative direction was "purple gemstones"?
But if your child isn't sure what kind of party they want (or they are too young to even realize what a birthday is), there are plenty of fun and unique options you can choose for them. Some of these are just as cute and adorable as your standard first birthday theme, but go a little beyond, and some are just really unique and fun (Warped Tour, anybody?). But no matter what you choose, your beautiful little weirdo is going to have an absolute blast.
A Milk & Cookies Birthday Party
There is something so perfect about a glass of milk and a plate of cookies, and turning the childhood classic snack into a whole party theme is sure to delight. This is a popular one for a bunch of first birthdays, and YouTuber and Instagram influencer Brittani Boren Leach threw her son a milk n' cookies party. Cookies on platters doubling as a snack and a decoration? It's actually genius.
You can expand a bit with lots of white and brown touches, but don't feel like you have to make this a sad beige party. Add in touches of blue and even gold for a fun, happy cookie look. Chocolate chip cookies are the undisputed hero, but you could spotlight any of your family's favorites. Lots of miniature glass bottles of milk and maybe even a Cookie Monster figurine or two really set it off.
A Warped Tour Birthday Party
It's true: nobody likes you when you're turning 3. That's the pun one couple used for their little one's Warped Tour-inspired third birthday party, which went viral on TikTok. If you came across it and want to re-create it for your kid, here's a guide.
Warped Tour has always had a red, yellow, and black-and-white checkerboard theme, so use those as the basis for your decor. Rock 'n' roll touches, like a lightning bolt piñata and a guitar cake topper, fit perfectly into the theme. But perhaps the most important touch of all for this party will be your playlist, which should include all the greatest emo hits.
Next year, let's do a Lilith Fair version, shall we?
A Target Birthday Party
Remember the little girl who loved Target so much, she decided to have her birthday party in the store? If your kid loves Target just as much (probably because you're obsessed and take them there all the time, right?), it'd be so fun to replicate that viral Target party. You'll need to piece together the perfect decorations, but you can totally nail the theme.
Of course, you'll want to adopt a red-and-white color palette for your balloons, cups plates, et cetera. Etsy has lots of Target-themed decorations, from banners to cake toppers, inspired by kids' love of the chain. A scaled-down Target cart would make a super cute cake topper or a fun base for centerpieces, while kids' custom employee name tags are quite possibly the cutest party favors ever.
A Spa Birthday Party
Is there anything sweeter than a bunch of little friends getting together to pamper each other and themselves? This is a perfect choice for tweens (think 9-year-olds and up), and you can really let them run the show. Set out all of your nail polishes, your lotions, your salt scrubs, and if you have one of those fun pedicure foot baths, make sure to get it ready. Favors can include robes or these fun towel headbands, and don't forget all of the face masks, sliced cucumbers, and of course plenty of fun snacks and drinks.
A "Donut Grow Up" Birthday Party
This one is a tearjerker it's so sweet. Donuts are an ideal baby and toddler treat: they're smaller than a cake, they're easy for a little one to hold, and they make for a really fabulous birthday theme. You can even do a fun activity of hanging donuts on string for kids to eat, or just make them part of the decor with a big pegboard to hang the donuts on.
One Happy Dude Birthday Party
One Happy Dude is such a fun theme for a little guy's first birthday. This one has gained a bit of popularity over the last year, and it's easy to find things that go with the theme — especially since the color scheme is so uncomplicated. Lots of smiley faces and lightning bolts make for a sort of retro and spunky look, while all the references to your "happy dude" put this firmly in the adorable camp of 1-year-old birthday parties.
For anyone who wants to up the pop-culture ante, there's always this Big Lebowski sweater for kids. Just saying.
"She's A Wild One" Birthday Party
Like a "Wild One" party that's all wild animals, this is a 1-year-old themed party, too, but it's inspired by wildflowers instead, and could not be easier to put together. There are so many options out there for decor, and you can reuse a lot of it to decorate a nursery or playroom after (like all of the wildflower garland). You can go Secret Garden-ish, boho, or even choose bright, poppy flowers if that's more your vibe.
Taylor Swift Era Birthday Party
I'm not saying this is the perfect 13th birthday party theme, but I'm not not saying it either. Honestly, Taylor Swift is for all ages, so if you have a little one who's ready to celebrate their birthday with a mini Eras tour concert, this list has you covered. These products focus heavily on the Lover Era, but you can easily swap out some of the decor colors and keep the Taylor Swift-centric items like the hats and cupcake toppers for a really fun, unique birthday party theme. Bonus: you've got the playlist taken care of.
Geology Birthday Party
Rocks are an underrated and genius birthday party theme. Whether your child is a geode/crystal expert or one who just loves to collect any tiny pebble they find on the street, this geology party theme goes hard. No gray lumps here — think a mixture of iridescent colors and lots of speckled patterns, and you can have a lot of fun with favors. Don't forget a classic geode cake — and plenty of "rock star" jokes.
Bubbles Birthday Party
Who doesn't love bubbles? Clear balloons, shiny tablecloths, and lots of light pastel colors really pull the theme together. And the best part is that your party activity can just straight up be a bubble machine in the middle of a yard.
Summer Camp Birthday Party
It doesn't have to be a summer birthday to have a summer camp theme. You can do such a great mixture of decor to give off the perfect camp vibes, but even better? Think of all of the classic games and activities that work with the theme: 3-legged races, an arts and crafts session, and a game of horseshoes, just to start.
Pop-It Birthday Party
Fidget pop-it toys have truly invaded every household I know — I'm concerned they multiply at night while we're asleep. Take your child's love for these fun little toys and make it their party theme. Of course there are plenty of decor options, and you can also make some fun pop-it-themed snacks by freezing yogurt or melted candy in a pop-it to add as decoration for a cake, or cut fruit out in the shape of a pop-it.
Witchy Birthday Party
First things first, I'm gonna need the playlist to include some Stevie Nicks. Now that that's out of the way, let's get witchy, y'all. There are so many adorable witchy party decorations, but I love a mixutre of pastel colors and black and white for a really fun — and not so spooky — witch vibe. Make up a potions stand with some slime kits for an activity, or put Hocus Pocus on and host a big movie night for your witch and their best buds.
Great British Baking Show Birthday Party
Got a star baker on your hands? Then throw them a Great British Baking Show birthday! For older kiddos, host your own little baking competition, or go easy with a cookie or cupcake decorating contest. Maybe let your birthday kid be the judge of their guests' baking projects? Either way, someone has to do the Paul Hollywood handshake, and these decor items will bring you all those cozy, lovely feels of the tent.
Mushroom Birthday Party
Mushrooms are having a moment, but you don't have to give your party a psychedelic theme or make it an ode to that Italian plumber who relies on shrooms to survive saving Princess Peach. Toadstools make for a really sweet, whimsical party theme, whether you're doing it for a tiny baby or an older child. You can mix in some other themes, too, like fairies or woodland creatures if the mushrooms alone aren't really your vibe.
Whether you tie the birthday party theme into your child's interests (like your little Target shopper) or just go for something new and original for a first birthday (instead of your standard Mickey Mouse), remember one thing: throwing a party is supposed to be fun. Enjoy the process of picking plates and cups and banners, and know that a rush of emotions is coming when your kid gets ready to blow out their candles.