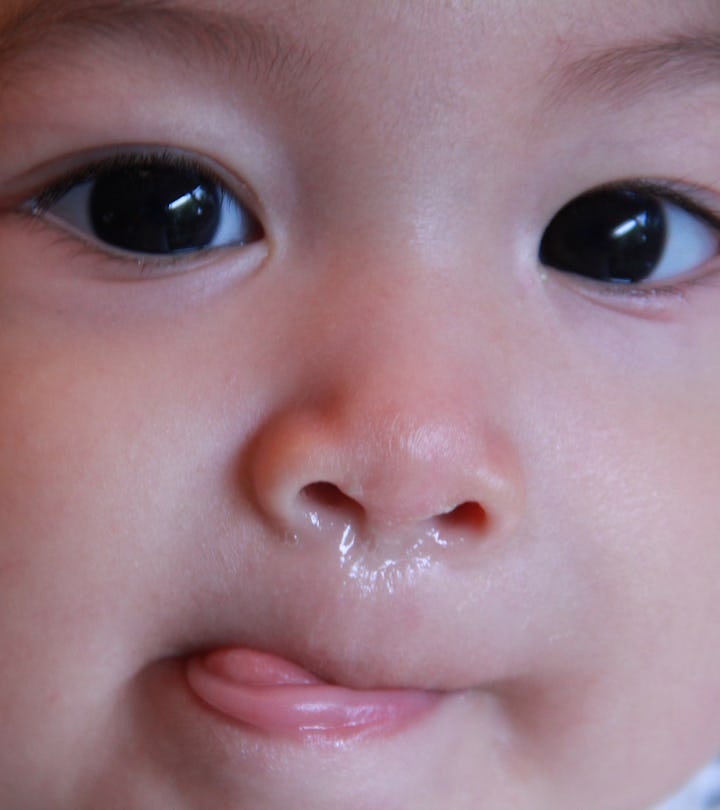 Shutterstock
Here Are 12 Ways To Clear Your Baby's Stuffy Nose, According To Experts
When they can't breathe, you can't sleep.
Parenting comes with its fair share of helpless moments, but I've never felt as wholly unprepared to be a mom as when my son got his first stuffy nose. Those tiny little nostrils were all clogged up and there was little I could do about it but fuss at him with Kleenex and hope he'd sneeze it out eventually... until I realized there are about a dozen different remedies I could and would eventually use on the regular. These12 products and strategies to help clear baby's stuffy nose (that I wish I'd known about 5 years ago) will save parents (and babies) many a sleepless night.
"Babies frequently have a stuffy or congested nose, and this can be concerning to a parent" Dr. Dane Snyder, a primary care physician at Nationwide Children's Hospital, tells Romper. "But, having a stuffy nose is extremely common and usually isn't a sign of anything dangerous. Using saline drops in the nose (one side at a time) and then a device such as a bulb syringe can help." This can be especially beneficial, Dr. Snyder says, if done prior to feeding. "The baby may have an easier time eating and breathing through the nose. If your baby is having other symptoms, such as a fever, you should contact your child's primary care provider. For urgent symptoms such difficulty or rapid breathing, or not feeding, you should seek medical care immediately."
If it's not an emergency, keep in mind, we're dealing with mucus here. Your poor helpless babe has nary the motor nor language skills to handle this legit sticky situation. Which means it's all up to you. Up to you to run to CVS or place a swift order online for the following products that I recommend, which is why I say go ahead and do that now. Get them all out of the way before a nasty cold has you panicking that your child will suffer from snot-induced asphyxiation. Is that even a real thing? Sources say no. Was I totally convinced this was inevitable? Yes, dear reader, I was. Don't be me.
Listen, stuffed up noses are inevitable whether you're three months or 33-year-old. So take a deep breath, pull out some of these tricks and tools, and your baby will be sniffing and laughing clearly again in no time.
Expert:
Dr. Dane Snyder, primary care physician at Nationwide Children's Hospital, nationwidechildrens.org/specialties/primary-care/meet-our-team