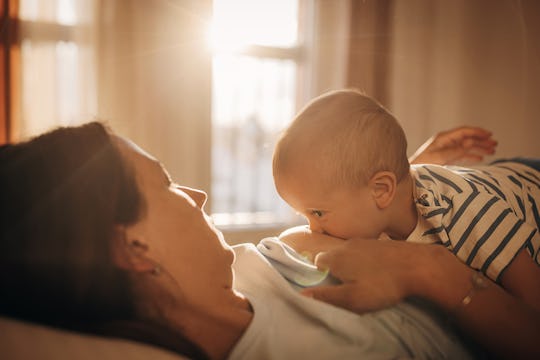 South_agency/E+/Getty Images
These Are The Best Foods To Eat When You're Breastfeeding
You're going to want to stock up on some veggies and protein.
If there's one thing that breastfeeding does (apart from feeding your baby, that is), it makes you hungry. All the time. But being hangry can lead to poor food choices, and if you're nursing, you'll especially want to ensure that what goes into your body is good for both you and baby. If you're wondering what to eat while breastfeeding, these are the foods that will give you the fuel you need, and taste good, too.
There really isn't one food that you should stick to in order to make the most of your breastfeeding journey. In fact, it's going to be a rainbow of foods that you'll find help boost your milk supply, keep you healthy, and provide the best nutrition while you're nursing.
"Generally speaking, a nursing person will want to eat a healthy diet of whole foods that make them feel good," Leigh Anne O'Connor, IBCLC, LCCE, a lactation consultant, tells Romper. "If a person eats a healthy diet, they will have more energy and they are modeling good eating habits for their child."
Just like during pregnancy, you should try to stay away from overly processed foods, which add a lot of calories but little nutritional value, advises Andrea Tran, RN, IBCLC, a registered nurse tells Romper. "Moms should eat the same things during breastfeeding as they do any other time to stay healthy," says Tran. "A combination of protein, healthy carbs and fats, fruits and vegetables of different colors are the best options." And as for how much more you should be eating, your goal should be to consume an extra 450 to 500 extra calories daily while breastfeeding, according to the Centers for Disease Control and Prevention.
Ready to dig right in? These nutrient-dense whole foods will make mealtime a lot more delicious and balanced for Baby and you.
Eating well should extend well past pregnancy and into your postpartum months, particularly if you're nursing. Not only can it improve your diet, but encourage your baby to be a better eater in the future, too. These foods will all go a long way in making you healthier and stronger as you feed your child — but, you know, the occasional cookie can't hurt, either.
Studies cited:
"Peanut" 2021.
Mennella, J., Daniels, L., Reiter, A. "Learning to like vegetables during breastfeeding: a randomized clinical trial of lactating mothers and infants" 2017.
Experts:
Leigh Anne O'Connor, IBCLC, LCCE, a lactation consultant
Andrea Tran, RN, IBCLC, a registered nurse
Jada Shapiro, lactation counselor and founder of boober
Melanie Silverman, Chief Clinical Officer, Pacify
Harland Adkins, RDN, a registered dietitian nutritionist
Alexis Diaz Commodore, RN, BSN, CPEN, a childbirth and lactation educator
Ashley Georgakopoulos, Motif Lactation Director & IBCLC, a lactation consultant