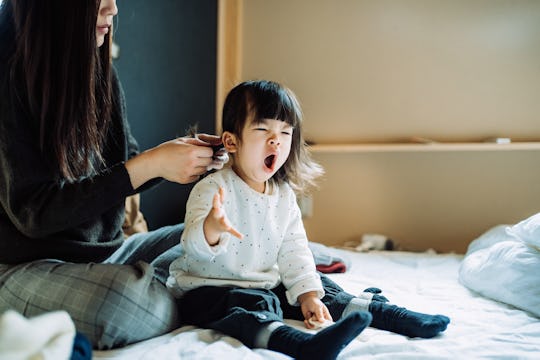 d3sign/Moment/Getty Images
Toddler Sleep Regressions Do Happen, But You Can Survive ⁠— Here's How
Just when you thought you could sleep through the night again.
It's like a parental pitfall that no one tells you about. After all that time struggling to get your baby to sleep, they're finally snoozing through the night (and woot, so are you). You can once again remember what it felt like to get a solid eight hours of sleep and feel fully functional again. You're lulled into this fall sense of sleep security, and then, out of nowhere, your child is up again at all hours of the night for seemingly no reason at all. Toddler sleep regression is no joke, but rest assured (ha), it will eventually pass.
When your child is up almost every hour on the hour in the middle of the night, it can feel like a cruel joke from the sleep gods. But even the soundest of sleepers can experience a regression at some point. "When toddlers regress in the sleep department, we sometimes see them resisting bedtime, resisting naptime, and waking up at night," Eva Klein, a certified infant and child sleep consultant, tells Romper in an email. And while that can be exasperating, sleep regression is perfectly normal (albeit annoying), the SleepFoundation.org reported.
Still, if you're struggling with your child's sleep regression, here are some ways to understand the how's and why's of it all — and get everyone (including you) a good night's rest once again.
Sure, sleep regressions suck, but the most important thing to remember is that they don't last forever. Whether it's a few days or weeks, your kiddo will eventually be back on track (and safely snoozing in their beds), so that it'll be lights out for all of you.
Experts:
Eva Klein, a certified infant and child sleep consultant
Alyssa Blask Campbell, M.Ed., an emotional development expert and baby sleep expert