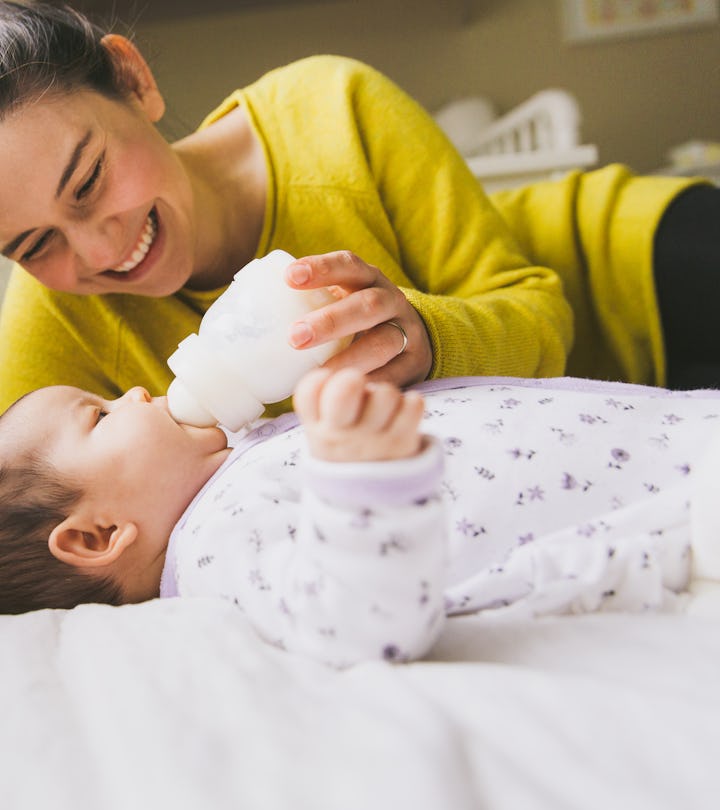 Tuan Tran/Moment/Getty Images
9 Reasons Why Some Women Can't Breastfeed
Because it's not easy, or even possible, for many of us.
Breastfeeding is a wonderful way to feed a newborn baby — for those who are willing and able to do it. The reality, however, is that there are many women who quite simply cannot or choose not to breastfeed for various reasons that are really no one's business but their own. But, in an effort to expand minds and generate compassion, it's really important to discuss the many reasons why some women can't breastfeed. In doing so, maybe more women can be met with empathy and understanding for their situations and choices, rather than judgement or shame. Particularly in light of the updated American Academy of Pediatrics (AAP) guidelines suggesting that women breastfeed for two years, hopefully we can set the record straight about the many, varied reasons that women opt not to do so.
The "breast is best" mantra has infiltrated modern motherhood as the benefits of breast milk for babies — and of breastfeeding for mothers — has become more well understood. Unfortunately, the pendulum seems to have swung too far, in that many mothers feel awful if they can't breastfeed or decide it that breastfeeding is not right for them. In fact, not being able to breastfeed can even lead to depression for some women. "When breastfeeding doesn't go as planned and mothers aren't able to provide as much breast milk as they had intended, some feel like they have failed their baby and that they aren't good mothers," explains Dr. Melissa E. Glassman, Medical Director of the Newborn Clinic and Outpatient Breastfeeding Support Program, Associate Professor of Pediatrics at Columbia University Vagelos College of Physicians and Surgeons, and an International Board-Certified Lactation Consultant (IBCLC). "At all times, it's really important to support mothers in whatever their breastfeeding goals might be."
In light of that, it may be helpful to get a sense of why a woman may not be breastfeeding her baby. Here are nine common reasons why a woman might not be able to breastfeed or might choose not to.
It doesn't matter why a woman doesn't breastfeed her baby. Let me repeat again for those in the back, it doesn't matter why a mother chooses not to breastfeed. If she doesn't want to breastfeed for any reason at all, that's her business and she doesn't have to explain it to anyone.
Experts:
Dr. Melissa E. Glassman, M.D., MPH, IBCLC, Medical Director of the Newborn Clinic and Outpatient Breastfeeding Support Program and Associate Professor of Pediatrics at Columbia University Vagelos College of Physicians and Surgeons
This article was originally published on