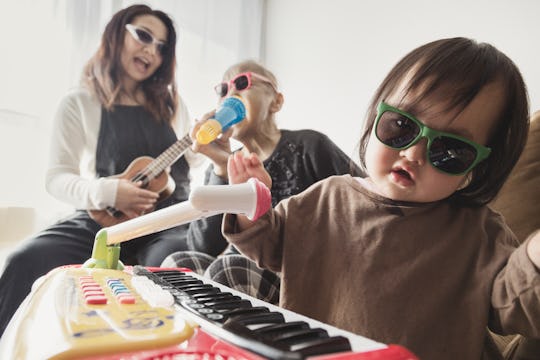 Kohei Hara/DigitalVision/Getty Images
28 Baby Names Inspired By Songs For Families Who Love To Rock
Imagine always having your very own theme song
When we found out we were expecting a son, I told my husband I wanted to name him "Cash." His response was, "No way, that's the most hipster thing I've ever heard." So we compromised and named our son Jackson, mainly because we both loved the name and the diminutive Jack. And partly because that was the name of one of our favorite Johnny Cash songs. I really love music and it's a huge part of my family's lives. If you're like us and always carry a song in your heart, there are plenty of baby names inspired by songs.
Our son's room is decorated in a "rock and roll" theme with guitars and song lyrics in prints all over the place. And quite frankly, it's one of my most favorite rooms in our whole house. I always knew I wanted our kid's name to have something to do with music or literature, whether it came from a song name, a character's name, a musician's name, or part of a song lyric. Music means a lot to our family. Before I got pregnant, we went to a metal show at least a few times a month, and always went to see some kind of live music of some sort. Our favorite trip together so far has been Nashville, where we got to go to all the honky tonks, the Country Music Hall of Fame Museum, and of course, the Johnny Cash Museum. My husband and I love all kinds of music, and I hope Jack does, too.
I love our son's name Jackson, and every time I hear the song "Jackson," on one of my Johnny Cash albums, I always sing it to him and it makes him smile. Maybe one of these song-inspired names will have you singing to your little one, too.
This article was originally published on