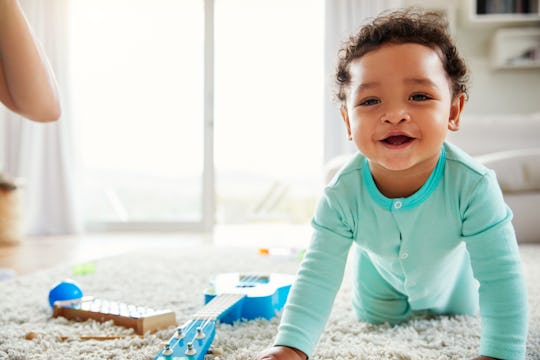 Monkey Business/Images/Shutterstock
34 "Old Man" Baby Names Your Partner Will Hate
Maybe try the Batman angle to get them to agree to Alfred.
Before my husband and I knew that our second baby was going to be a girl, we did a lot of talking about baby names. And I mean, a lot. Turns out, most of the names I'm obsessed with, my husband has deemed only appropriate for an 80-year-old. (Which, duh. That's why I'm obsessed with them.) This was never more true than when I suggested names for a boy. He seriously grimaced with almost every option, so if you're also on the hunt for some "old man" baby names, I can almost guarantee your partner (if they're anything like mine) will hate them.
Truthfully, the names on this list are classics. They're traditional, they work for nearly every surname you can think of, and they're more unique than you can imagine. For your kid to have a name that nobody else in the room does, you don't have to try out an awkward spelling or combine two names you love. Peering into the vault of "old" names and seeing what comes up can seriously give you the most unique options. My oldest little girl is an Alice, and I've yet to meet another Alice her age in public or in her classroom. It's whimsical, it's happy, it's classic, and it works for a little girl, a young woman, and a happy older lady. That's how this list is — they'll carry your baby through every age and milestone. They'll just sound like little old men when you call for them.
But don't fret — I've got arguments prepared for most of these names. Luckily, a ton of "old man" baby names are also names of popular comic book characters or have huge ties to pop culture. This could really work in your favor — or it could backfire stupendously, like when I really wanted the baby name George in the running and my husband said all he could think of was George Clooney and George of the Jungle.
Whether you like the vintage timelessness of some of these names or prefer how a bunch of "old man" baby names sound really unique and fresh, there's something on this list for everyone. And you can totally convince your partner to love them, too.
This article was originally published on