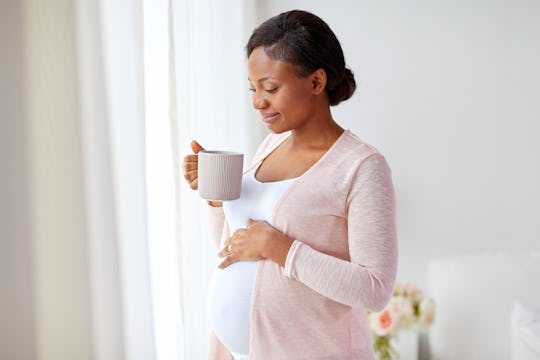 Syda Productions/Fotolia
7 Ways To Soften Your Cervix & Hopefully Get Labor Started
Some are simpler than others.
When I was pregnant, I couldn't wait to not be pregnant toward the end. I enjoyed my pregnancy until week 36, but by then I was so uncomfortable and anxiously obsessing about the labor, I just wanted to get it over with. I had to be induced at 39 weeks for medical reasons, but I wanted to try to do some of the inducing myself at home the day before to speed up the process. I asked Dr. Jamil Abdur-Rahman, an OB-GYN and medical travel blogger for TwinDoctorsTV, to give me some ways to soften your cervix and get labor started at home. Because like I said, at the end, we are all so, so ready to not be pregnant anymore. Turns out, there's hope. "There are a number of things that people can do at home to soften the cervix and induce labor," Abdur-Rahman tells Romper in an email interview. But here are six of the ones that can actually work.
If you're up for it, get ready for a lot of sex — including nipple stimulation — massage, and some herbs. I know being touched and sex may sound like the worst thing ever at the end of your pregnancy, but you never know — it could just help you go into labor sooner. It's important to remember though, that when it comes to the actual medical information surrounding induction, the American Family Physician noted that while there are plenty of natural methods such as herbs and sex to try, the only things that are actually efficient at ripening your cervix are "mechanical and surgical" modalities. I know — those sound scary. But obviously those aren't things you'll be trying on your own, and are only used if your healthcare provider deems them medically necessary.
That baby's gotta come out eventually, whether it happens naturally or by having sex, ingesting herbs, or having the hospital take over. Good luck, and here's to softened cervixes! (Once you're full-term and all.)
Studies referenced:
Tenore, J. (2003) Methods for Cervical Ripening and Induction of Labor, The American Academy of Family Physicians, https://www.aafp.org/afp/2003/0515/p2123.html
O'Brien, WF. (1995) The role of prostaglandins in labor and delivery, Clinics in Perinatology, https://www.ncbi.nlm.nih.gov/pubmed/8665768
Parsons, M. (1999) Raspberry leaf and its effect on labour: safety and efficacy, Australian College of Midwives Incorporated Journal, https://www.ncbi.nlm.nih.gov/pubmed/10754818
Sayed Ahmed WA., Ibrahim ZM., Ashor OE., Mohamed ML., Ahmed MR., Elshahat AM. (2016) Use of the Foley catheter versus a double balloon cervical ripening catheter in pre-induction cervical ripening in postdate primigravidae, The Journal of Obstetrics and Gynaecology Research, https://www.ncbi.nlm.nih.gov/pubmed/27436681
Bell, A., Erickson, E., Carter, S. (2014), Beyond labor: the role of natural and synthetic oxytocin in the transition to motherhood, the Journal of Midwifery and Women's Health, https://www.ncbi.nlm.nih.gov/pmc/articles/PMC3947469/
Experts:
Dr. Jamil Abdur-Rahman, OB-GYN and medical travel blogger for TwinDoctorsTV
This article was originally published on