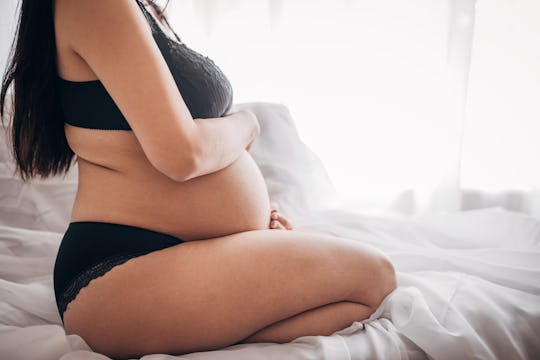 South_agency/E+/Getty Images
8 Reasons To Masturbate While Pregnant
Stress release is a good thing.
Almost all of the bizarre things that come along with pregnancy can be traced back to hormones. The surges of progesterone, estrogen, and testosterone are the reason you burst into tears because you saw a cute kitten gif. And they can also be responsible for your urge to get it on. It's not uncommon for pregnant women to be in the mood for sex, and when nature calls, there's no reason not to answer. You don't have to be shy about your body's needs. In fact, the reasons to masturbate while pregnant outweigh any embarrassment you may feel.
If, for no other reason, think of the release your pregnant body will enjoy. It's hard work growing a human, and sometimes you need a little something awesome to get through the day. "Many pregnant women find that their libido or sex drive has kicked into high gear and they are very interested in sex," nurse practitioner Barbara Dehn, author of Your Personal Guide to Pregnancy, tells Romper. "Masturbation is a terrific release."
All the good feels aside, pregnant women can soak up some additional benefits to masturbation during pregnancy here and there throughout each trimester. So, when you feel the need, don't wait for your partner to make things happen — take matters into your own hands and make the most of those nine months.
In case you need a reason to seek out a little pleasure during these long months, now you've got eight great ones.
Studies referenced:
Kontula, O. & Miettinen, A. (2016). Determinants of female sexual orgasms. Socioaffective Neuroscience & Psychology, https://www.ncbi.nlm.nih.gov/pmc/articles/PMC5087699/
Experts:
Barbara Dehn, N.P., women's health nurse practitioner at El Camino Women's Medical Group and author of Your Personal Guide to Pregnancy
Brittany Noel Robles, M.D., obstetrician and gynecologist and certified personal trainer specializing in postpartum
This article was originally published on