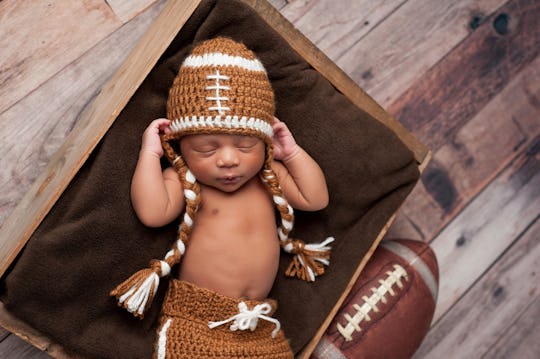 Shutterstock
18 Football-Inspired Baby Names For Your Little QB
This one's for all the future athletes and head coaches.
For many football fans, the obsession runs deep, and rightfully so — imagine being born into a family who spends each Sunday (or Saturday, if college football is your thing) gathered around the TV to cheer on their home team together. It's one of those times every week families get together, share some homemade snacks and meals, and can put all disagreements aside because rooting for their Bucs, Steelers, or Cowboys is just more important.
So, when thinking about baby names and whether you'd want to name your little one after one of your heroes, it's natural that famous coaches, players, and team founders come to mind. Heck, even some mascots would make darn good monikers. If your partner isn't so much into the whole football thing, you may have some convincing to do. Good thing: there are plenty of football-inspired name options that don't sound like they came straight off of somebody's jersey. But then again, some of the best names do.
No matter what name you choose for your bundle of joy, just make sure it's one that's easy to shout once they're big enough to throw a football in the front yard and you need them to go long.