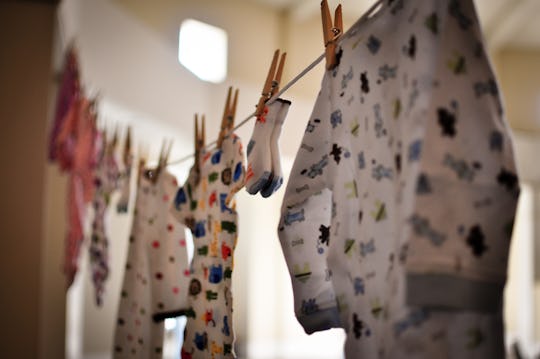 Todd Fong Photography, Getty images
These 12 Baby Shower Zoom Backgrounds Are Fun & Festive
These images will make your shower picture perfect.
You've spent almost all of your pregnancy in quarantine, and damn it, you're ready to celebrate with some cake and loved ones cooing at your belly. But if your in-person guest list is just you, your partner, and your bump, you can still find ways to make it festive. And these baby shower Zoom backgrounds are way more darling than any diaper cake.
A lot of moms look forward to their baby shower, whether it's to commemorate a first baby's arrival — or the fifth. A new life is something to surely celebrate, and like most holidays that the pandemic has managed to eff up, it's taken baby showers off the fun list, too. So even if you're planning to socially distance and stay in your homes, you should still make the occasion momentous with some decor that will put everyone in high spirits (and yes, guests should be encouraged to drink their way through your party, too). Because everyone is going to need some cocktails when they have to ooh and aah over the umpteenth onesie, even if it is in that delicious 0-3 month size.
But before you start sending out the virtual invites, you'll need to know what Zoom's requirements are for uploading images as a virtual background. As far as changing the Zoom background, it's super easy: just click on Settings and then Virtual Background, and select your image. Just make sure that the image is at least 1920px x 1080px — or else you might see black bars on the sides of your screen.
So before you get glammed up and put on your favorite maternity frock, check out these baby shower Zoom backgrounds that are sweet, sophisticated, silly... and maybe even slightly sexy.
You'd probably love to be celebrating your baby shower in person with your family and friends. But to ensure the safety of both you and your unborn baby (and your guests, too), it's best to stay socially distanced and at home. But putting a pretty and fun baby shower background can help make your party more pleasant — and you won't even have to worry about cleaning up afterwards.