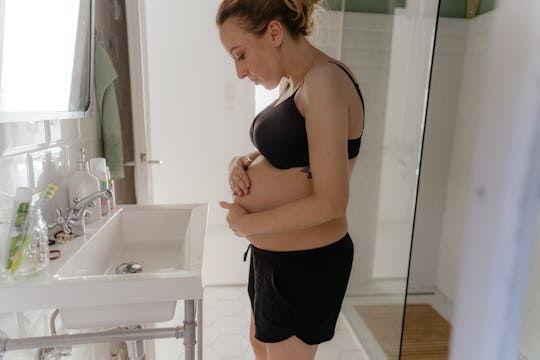 AleksandarNakic/E+/Getty Images
These 14 Body Oils Are A Safe Way To Soothe Your Itchy Pregnancy Skin
And help prevent stretch marks, too.
In addition to ditching happy hour and hot tubs, pregnancy requires that you leave behind some of your favorite skincare products. The good news is if you find your stretching skin dry, itchy, and in need of a little (or a lot) of TLC, there are plenty of pregnancy-safe body oils out there that are so good you'll be using them long after the fourth trimester comes to a close.
Pregnancy-Safe Skincare Ingredients
If you feel like when you ask about pregnancy-safe ingredients you're getting different information from everyone you talk to (not to mention Google), you're definitely not alone. "While there are guidelines from the FDA regarding pregnancy safety categories for ingredients, there are still very few studies evaluating the safety of many skin care products (because no one wants to do studies on pregnant humans). For this reason, advice may vary from one doctor to the next," Dr. Hadley King, dermatologist, tells Romper. Because it's so individual, it's difficult to say what ingredients you definitely should be using while pregnant, but it's a little easier to know what to avoid.
"Topical tretinoin is [in the FDA'S] pregnancy category C, meaning that use by pregnant women has not been extensively studied. So although it has not been proven safe to use during pregnancy, it has not been proven unsafe either. This is true of retinol as well. Salicylic acid and benzoyl peroxide are both class C, which generally should be avoided," King tells Romper. Check in with your doctor, but it's also generally a good idea to avoid dyes, parabens, petroleum, and fragrance as Dr. Dendy Engelman, dermatologist, told Romper in a previous article.
Body Oil & Stretch Marks
A stretch mark is actually a scar that develops when skins stretches or shrinks quickly, King explains. "Like any scar, stretch marks are permanent, but treatment may make them less noticeable. Massaging products into the skin may help reduce the risk of stretch mark formation," King says and adds that some studies show that taking the time to massage a product into the skin may make it more effective for the improvement of stretch marks, so be sure to massage your oil in.
Read on for pregnancy-safe body oils to help soothe your dry skin and your itchy belly.
We only include products that have been independently selected by Romper's editorial team. However, we may receive a portion of sales if you purchase a product through a link in this article.