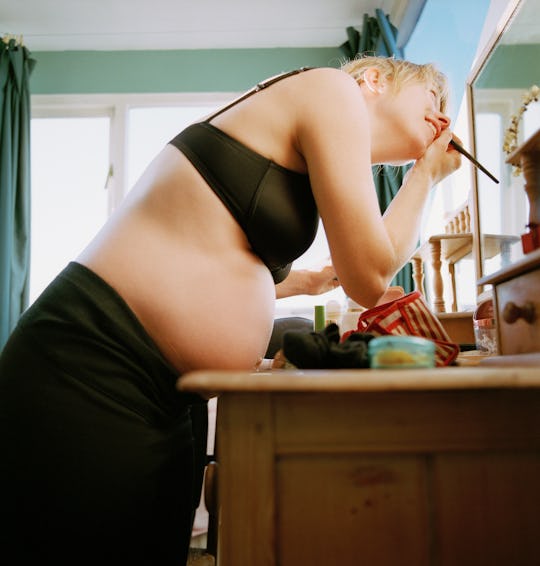 Mecky, Getty Images
30 Pregnancy-Safe Moisturizers That Are Amazing Anytime
You won't even want to go back to your old routine.
Pregnancy asks that you give up some of your favorite things (which is okay, because you're gaining something priceless). Along with cold cuts, sushi, soft cheeses, and that second glass of wine or coffee, you're also asked to give up certain skincare ingredients. It can be daunting to overhaul your entire skincare routine, but the good thing is that there are many awesome pregnancy-safe moisturizers available. In fact, they're so good, you just may never go back to your old ways.
Ingredients in your products are absorbed through the skin and can get into your bloodstream, according to a 2009 study done by L'Oréal Recherche. This premise is why the birth control patch is able to work, for example, but it also means what you put on your skin can get to your growing baby. Dr. Dendy Englemen, dermatologist, recommends avoiding the following ingredients while pregnant and nursing:
Formaldehyde (found in hair straightening treatments, nail polishes and eyelash glue)
Aluminum chloride hexahydrate (used in many deodorants)
Diethanolamine (DEA) (found in hair and body products)
Dihydroxyacetone (DHA) (found in self-tanners)
Parabens
Dyes
Petroleum (i.e. propylene glycol, mineral oil, petrolatum, isopropyl alcohol)
Oxybenzone
Fragrance
Triclosan
Sodium lauryl sulfate
hydroquinone
Prescription medications like Accutane, Retin-A spironolactone, and tetracycline
Engelman tells Romper that certain doctors also recommend avoiding benzoyl peroxide and salicylic acid while pregnant. Any product with vitamin A in it is a known teratogen, which means it's known cause birth defects, according to Engelman. "Because of the known dangers of Accutane, all vitamin A derivatives — retinol and retinoic acids — have been deemed potentially unsafe and it is recommended that they be avoided during pregnancy and nursing," Engelman explains.
Dr. Sandy Skotnicki, author of Beyond Soap, also cautions against certain essential oils and botanical extracts. Why they may seem natural and safe "recent studies have shown that lavender and tea tree oil may be hormone disruptive in young children. It is common to want to be more natural during these times [but] plants are still chemicals. If you want a more natural alternative 100 percent squalane oil is a good option for a moisturizer," Skotnicki tells Romper. She also recommends glycolic acid AHA which, "comes from sugarcane and is safe during pregnancy."
It's daunting and time-consuming to read every label to figure out what you should be using on your face and body while pregnant. Plus I know your skin is probably really, really dry and you need a remedy like, now (pregnancy is known for causing dryness because of the hormone changes and tightening skin, per Healthline.) I got you. Read on for the 30 best moisturizers to use while pregnant.
We only include products that have been independently selected by Romper's editorial team. However, we may receive a portion of sales if you purchase a product through a link in this article.
With so many pregnancy-safe moisturizers to choose from, you're sure to find a product to fall in love with. If you're lucky, it might even become one of your favorites postpartum, too.
This article was originally published on