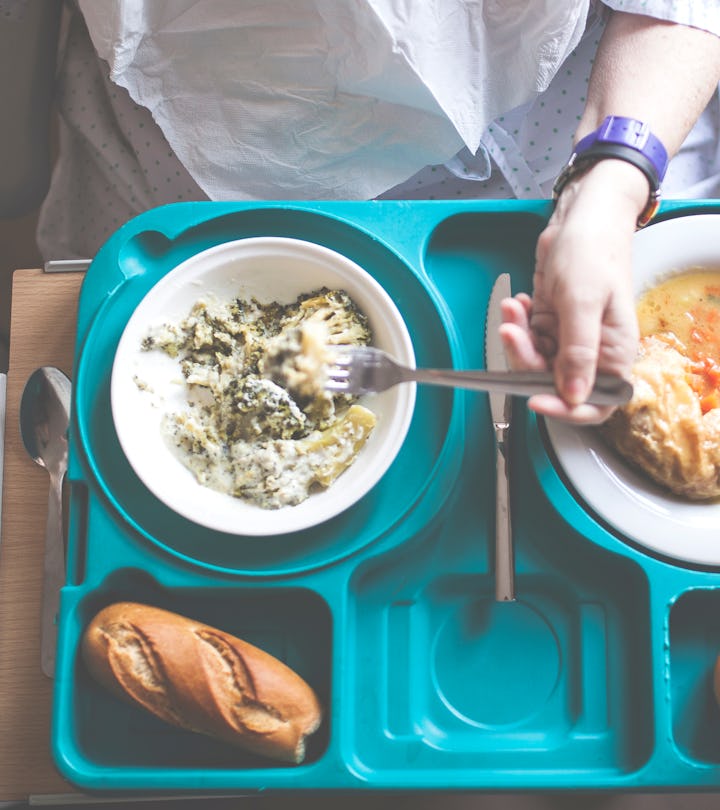 Shutterstock
22 Moms Share Their First Meal After Giving Birth
Turkey sandwiches, sushi, and fast food chicken were big themes.
I will always remember the first meal I ate after giving birth. It was simple hospital food, yet I swear to God it was the most delicious meal I had ever eaten in my entire life — scrambled eggs, bacon, a bagel with cream cheese, coffee, and a bowl of blueberries. Maybe it's because I hadn't eaten in 30 hours. Maybe it was because the hospital food at Emory University Hospital was just that d*mn good (doubtful). I will say, however, that a mere three hours later my husband brought me a double quarter pounder with cheese, a large fry, and a large sweet tea, and that also was the best burger I had ever tasted. And we all know McDonald's isn't the place to get the best burger of all time. But at that moment, it was to me.
Labor will either make you the most ravenous that you've ever been in your entire life — that's some hard work, y'all — or for some moms, it will make you feel sick and scared your uterus is going to fall out if you eat and then throw up. Either way, that first meal is one of legends, and most moms definitely remember it, whether it was a positive experience or not. These 22 moms reminisced about their first meals post-delivery and they share all — the good, the bad, the ugly, and the super, super gross.