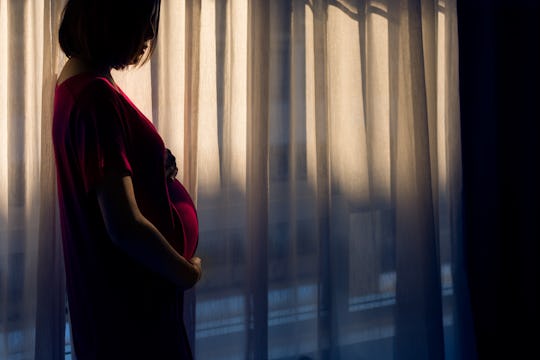 Shutterstock
How To Handle A Breakup When You're Pregnant, According To Experts
It may be tricky, but it's not impossible to navigate.
Just like the old song goes, breaking up is hard to do. Now imagine going through it while expecting. But life happens sometimes, and you might find yourself having to figure out how to handle a breakup when you're pregnant. While it might not be the most pleasant thing to do during your nine months, it might actually be the best thing for you and your baby in the long run.
Here's the thing about pregnancy. Although it can be an emotional roller coaster at times, it can also bring tremendous clarity to your life, too. You see what makes sense in your life — and what doesn't. And you might realize that your relationship is no longer working for you (or maybe you already knew it all along but didn't want to acknowledge it). So kudos, because making the decision to end things during what truly is a vulnerable time in your life shows how strong you really are.
That said, parting ways still isn't an easy decision to make. "Breaking up with your partner when you are pregnant is a really tough decision," relationship expert Beth Sonnenberg, LCSW, tells Romper. "It is different than other break ups because you are going to still always be connected and probably remain in each other's life at some capacity as parents to your child."
If you're considering ending your relationship (or you've recently split up), these strategies will help you not just to survive the breakup, but allow both you and baby to thrive as well.
How To Break Up With Your Partner During Pregnancy
There are so many reasons why you and your partner might part ways while you're pregnant. And still, it's not too common, (a study found that more couples were likely to separate after a miscarriage or a stillbirth as opposed to those who experienced a live birth), which is why you might need some navigation on how to do it without causing additional complications or stress to your relationship or your health. You might feel the need to make a million decisions right away… but you don't. "When you're going through a separation, it's really important to triage decision making," Diana Yanez, a certified financial planner, tells Romper. "What has to be decided now and what can wait until there's more clarity?" After all, a person in the midst of pregnancy needs as much stability as possible, Yanez points out. That's why you should take some time to determine what has to be done now — and what can wait for later.
While it might not be exactly how you planned it, breaking up when you're pregnant isn't the end of the world. In fact, it might be the beginning of a wonderful new phase in your life that will inspire others (including your baby) to live their truth and do what's best for them — no matter what the circumstances.
Sources interviewed:
Beth Sonnenberg, LCSW, relationship expert
Diana Yanez, a certified financial planner
Rajeh A. Saadeh, a divorce and family law attorney in New Jersey
Trish McDermott, dating industry expert and co-founder of Meetopolis
Dr. Margaret Paul, Ph.D., psychologist and relationship expert
This article was originally published on