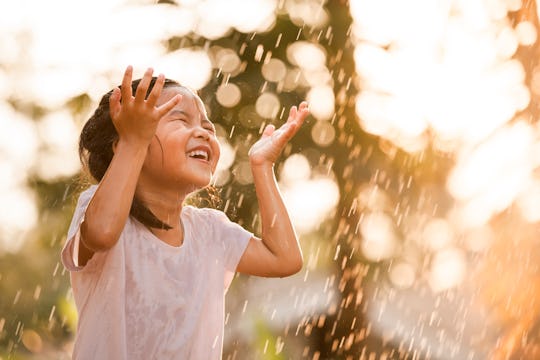 Shutterstock
101 Of The Splishiest, Splashiest Names That Mean Water
Water gives life and has inspired a lot of truly beautiful baby names!
Why is it that some of our most soothing and exciting moments come in or near water? A day at the beach, a dip in a lake, dancing in the rain, kayaking down a river, or just sitting in your bathtub all make for time well-spent. There's just something about it that serves as a balm for your soul, so I think giving your babies names that mean water is a lovely idea. I've gathered some favorites from around the world — names that mean water, refer to water, or are inspired by water — for your consideration, including the origin of the name and its meaning. (Unless it's a name like "Rain" in which case... you know what rain means.)
No matter why water inspires you, there are plenty of baby names that mean water to choose from.
Boy names that mean water
Arno (Italian; a river in Italy)
Calder (Scottish; "rough waters")
Aalto (Finnish; "wave")
Colorado (Spanish; a river in the United States)
Hurley (Irish; "sea tide")
Devere (French; "fishing place")
Kai (Hawaiian; "sea")
Rio (Spanish; "river")
Severn (English: the name of rivers in England and Maryland)
Marius (Latin; debated, but possibly "sea")
Struan (Scottish; "stream")
Enkai (Japanese; "deep ocean waters")
Beckham (English; "homestead by a stream")
Douglas (Gaellic; "dark water")
Mizu (Japanese; "water")
Bahari (Swahili; "one who sails")
Varun (Thai; a variation on "Warun," a rain deity)
Huron (Old French; the name of one of the Great Lakes of North America)
Aenon (Greek; "spring/natural fountain")
Beck (German; "brook, stream")
Llyr (Welsh; the god of the sea in Welsh mythology)
Ford (German & Old English; "a river shallow")
Evros (Greek; a name for the Maritsa River, which flows through the Balkans and southeast Europe)
Van (Turkish; a lake in Turkey)
Caspian (Latin; the name of a sea between Europe and Asia)
Brosnan (Irish; "one who dwells near the Brosna River")
Alun (Welsh; the name of a river in Wales)
Hudson (English; a river in New York)
Aldan (Russian; the name of a main tributary of the Lena River in Siberia)
Bahri (Arabic; "vast like the ocean, maritime")
Se(a)ton (Old English: "seaside town")
Anan (Hebrew; "vapor")
Zale (Greek; "sea strength")
Annop (Thai; "ocean")
Bolin (Chinese; "elder brother rain")
Girl names that mean water
Mayim (Hebrew; "water")
Reva (Hindi; "rain")
Thetis (Greek; a sea nymph and ocean goddess)
Cordelia (Welsh; "jewel of the sea")
Maris (Latin; "of the sea")
Anahita (Old Persian; the name of an Iranian goddess "of the waters")
Delta
Talia (Hebrew; "dew")
Aqua (Latin; "water")
Columbia (Latin; the name of a river in the Pacific Northwest)
Kaveri (Sankethi; "river")
Kailani (Hawaiian; "sea and sky/heaven")
Morgan (Welsh; "sea born")
Arethusa (Greek; a nymph in Greek mythology who was transformed into a freshwater spring.)
Iara (Tupí-Guaraní; "lady of the lake," the name of a mermaid/nymph/siren-like entity who lives in the Amazon river)
Nerissa (Greek; "sea nymph")
Damla (Turkish; "drop of rain")
Tallulah (Choctaw; "leaping water")
Amaya (Japanese; "night rain")
Jahavni (Indian; another name for the River Ganges)
Thuy (Vietnamese; "water")
Doris (Greek; "gift from the ocean")
Miriam (Hebrew; debated, but often "woman of the sea" or "sea of bitterness")
Zarna (Hindi; "springs, the source of a river")
Maristella (Latin; "star of the sea")
Victoria (Latin; a lake in
Nimue (Welsh; "the Lady of the Lake," ruler of Avalon in Arthurian legend)
Moana (Maori/Polynesian; "ocean")
Aella (Greek; "tempest")
Japurá (Portuguese; a river in Brazil)
Clodagh (Irish; a river in Ireland)
Daria (Persian; "sea")
Nixie (German; "water sprite")
Lena (Russian; a river in Russia)
Zumzum (Swahili; "pure water")
Gender neutral names that mean water
River
Ocean
Brook
Wave
Seine (French; the name of a river in northern France)
Brodny (Slavic; "one who lives near a stream")
Rain
Jordan (Hebrew; the name of a river in Jordan, Israel, and Palestine)
Monroe (Gaelic; "one from the River Roe" in Ireland)
Storm
Lyn (Welsh; "lake")
Devereaux (French; "banks of the river")
Brooklyn (English; "one who lives near a brook")
Lachlan/Lachlyn (Scottish; "lake land")
Loire (French; the name of a river in central France)
Lake
Afon (Welsh; "river")
Como (Italian; the name of a lake in northern Italy)
Edlen (Old English; "noble waterfall")
Bada (Korean; "ocean")
Fontaine (French; "fountain")
Bo (Chinese; "wave")
Dylan (Welsh; "child of the sea")
Eaton (Old English; "homestead on a river")
Hai (Chinese; "ocean")
Lincoln (Old English: "lake colony")
Rilian (German: "small stream")
Reef
Sevan (Armenian; "lake")
Harbor
Leith (Gaellic; "wet")
From obvious to more symbolic, there are plenty of water baby names for your little splish splashin' babe. Just think about what it is that inspires you about water, and turn that into the baby name of your dreams. Your water baby.