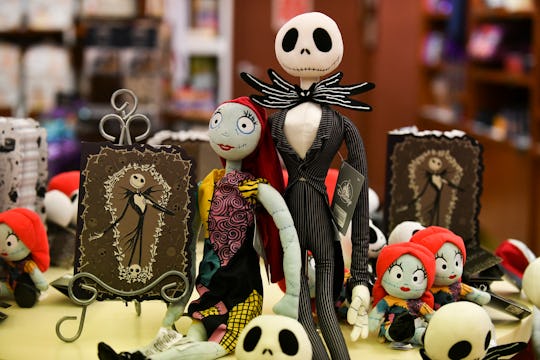 Rodin Eckenroth/Getty Images Entertainment/Getty Images
13 'Nightmare Before Christmas' Baby Names Based On Your Favorite Characters
They're so creepy, they're cool.
Naming your baby can be a total nightmare. As in The Nightmare Before Christmas, that is. The 1993 stop-motion Halloween movie features the super long-limbed Jack Skellington, a singing skeleton who schemes a way to bring Christmas to Halloween Town, where he's currently the Pumpkin King. The movie has a lot of heart (and yes, creepy creatures), and with its love story and cool animation, it's not hard to see why it's become such a holiday classic. So if you're in love with Jack, Sally, or even the insect-filled Oogie Boogie, you'll want to check out these The Nightmare Before Christmas baby names that are so creepy, they're cool.
There are some movies that are indisputably Halloween-oriented, like Hocus Pocus or Monster House. There are also an equal amount of holiday movies, like Elf or A Christmas Story. But The Nightmare Before Christmas doesn't fall exactly into either category, which is what makes it so much fun to watch, whether you're carving pumpkins or decorating your Christmas tree. And it's one of those rare movies that is something that everyone in the family can watch — and you just might find yourself watching it well after the kids go to bed.
So take a trip to Halloween Town, where you just might find the inspiration for your baby's name — and your costume for Halloween this year, too.
If you love everything macabre about the movie The Nightmare Before Christmas, picking a baby name based on the film can be a lot of fun, especially when you tell people that your inspiration for your child's name came from a movie about spirits, skeletons, and Santa Claus.