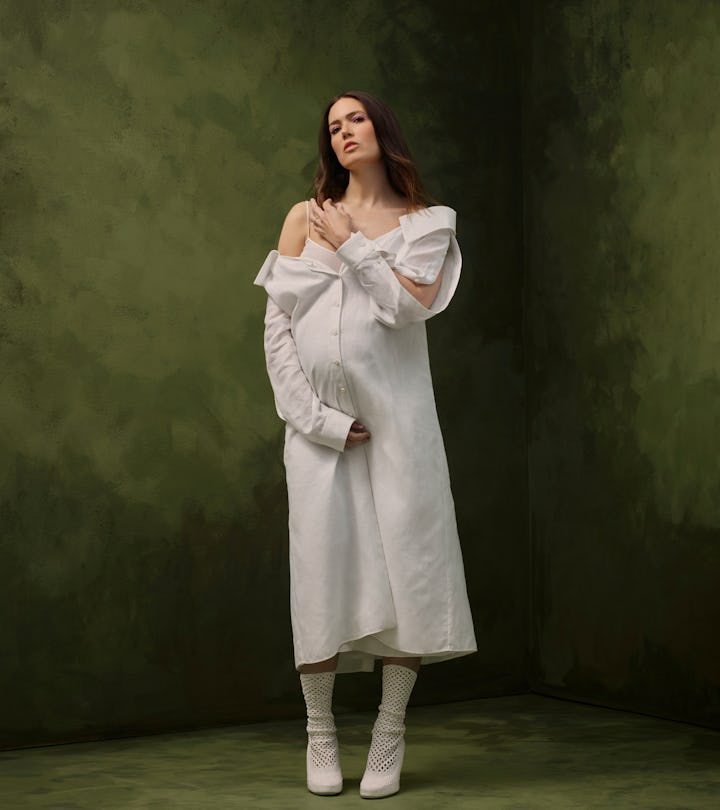 Emman Montalvan
22 Flowy, Non-Maternity Dresses You Can Wear Throughout Your Pregnancy & Beyond
Inspired by our cover shoot with Mandy Moore, we sought out these versatile pieces you can wear with your growing bump—and after.
The thing about maternity clothing is that, while it's usually necessary, it's not exactly fun to spend money on since it's a short-term wardrobe. So, any time you can find non-maternity dresses you can wear throughout pregnancy, it's a real score. A flowy dress is always nice to have hanging in your closet, and it's a lot easier to justify the cost of investing in an "anytime" dress than in one that you know you'll be tossing into storage or a donation pile in the not-so-distant future.
Maternity wear has come a long way over the years, but a lot of it still looks, well, kind of blah. While there are some really great options out there, there aren't nearly as many color and style choices as there are in standard sizes, and rotating through the same few pieces of clothing every day throughout your pregnancy can get really old (especially if you don't feel like yourself anyway). That's why if you find something you love that you can wear during and after pregnancy, it's definitely worth the buy.
One item of clothing where this is definitely possible is a flowy dress. There are so many cute dresses that look fantastic with or without a baby bump, and they're available in a wide variety of sizes, styles, and colors. Investing in a non-maternity dress is a great way to add some of your own personality into your maternity and regular wardrobe.
Here are some fantastic options to help you get your search started.
It's not easy to feel like yourself when you're pregnant because you're literally sharing your body with a growing human, so if buying a few non-maternity dresses will help, then don't hold back. Having pieces in your wardrobe that you look forward to wearing, with a baby bump or not, is always a good investment.