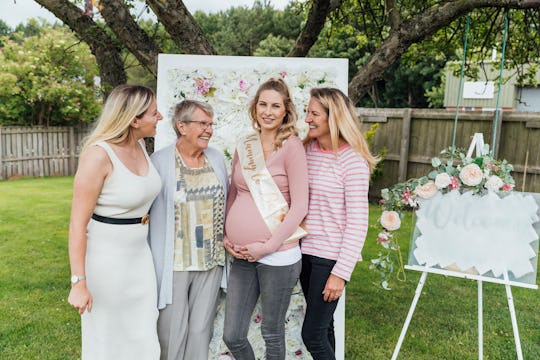 SolStock/E+/Getty Images
How To Throw An Epic Outdoor Baby Shower
Because it's too nice to have your sprinkle inside.
You're planning your baby shower down to the tiniest detail. But if there are sunny skies forecasted, why not set up everything al fresco for an outdoor baby shower? Being outside can add an entirely new element to your party, making it even more memorable and magical. If you're stumped on outdoor baby shower ideas, these tips can help.
Now, there's nothing wrong with an indoor baby shower. You might opt for one if weather is a factor (after all, no one wants to be showering you in well wishes during a snowstorm), or if logistically it just makes sense to hold it in a venue or some other indoor area. Still, an outdoor baby shower is the perfect idea for soon-to-be mothers, Andrea Correale, an event planner and president of Elegant Affairs tells Romper. "Indoor baby showers can feel stuffy and boring, and the arrival of new life is not any of that," says Correale. "If you are planning on throwing an outdoor baby shower, you will be astonished by how genial and memorable the event will be for not only your guests, but especially for the soon-to-be mother."
We only include products that have been independently selected by Romper's editorial team. However, we may receive a portion of sales if you purchase a product through a link in this article.
An outdoor baby shower has quite a few advantages over an indoor one. Not only do you get more space, but you can create a completely customized event that allows you to soak up being outside with friends and family. And that can make your shower sensational.