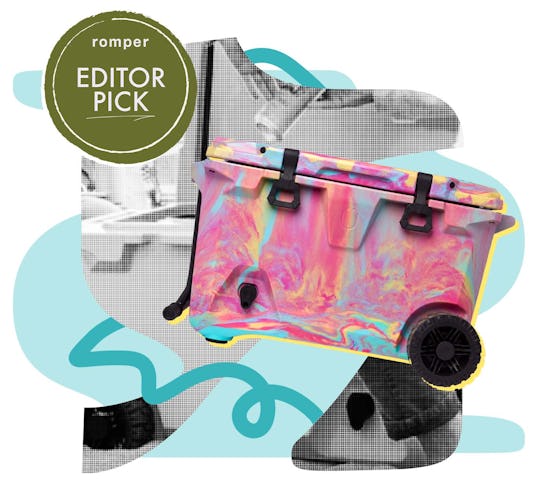 This Rainbow Cooler Holds Everything My Family Of 5 Needs For Summer Fun
And it looks so cute doing it.
Had To Share
We may receive a portion of sales if you purchase a product through a link in this article.
Whether you're a family of five headed out on a camping trip with half of your house packed into the minivan (like moi), or a single person who heading down to the pool on a Saturday with nothing but a can of sunscreen and some beers (what's that like?), you need a good cooler. Coolers are the ultimate "gear." You use them all year long, they come rolling out at birthday parties, they're a must-have for lake days and pool days and beach days — and if you have kids, finding one that actually holds your six-pack and every water bottle your kids need (plus snacks) is paramount. We have three kids and have gone through a lot of cooler and snack bag variations, but I'm here to save you some time: just get the Brümate Brütank 55-quart rolling cooler.
Our family of five has had soft coolers, backpack coolers, and mini coolers. We've dropped ice packs into insulated lunchboxes and then found them melted and mildewy the next day because we had already unpacked 17 bags after a trip to the pool and couldn't possibly fuss with one more. We've tried to lighten our load, tried to just carry water bottles so the cooler can just hold sodas and fizzy drinks, and then realized we left the snack bag at home. We've packed snacks into the diaper bag only to find them in crumbs and smushed pieces by the time the kids want them, and I can't tell you how many times we've wished we had a nice refreshing mojito hidden inside the cooler instead.
The Brümate Brütank 55-quart rolling cooler? It fixes all of our problems. Because it holds so. much. stuff. It has a little wire basket to keep snacks in the cooler without them getting wet or smushed. And it has a 2.8-gallon drink tank that you can fill with whatever you like (mojitos!) with a tap on the side so you don't even have to open the cooler to dispense it. She sounds like a lot, because she is. And she's worth it.
Stats
Price: $399.99
Sizes: One size, a 55-quart cooler with a 2.8-gallon drink tank
Colors: Ice white, charcoal, denim, red and black swirl, ocean swirl, aqua, morning rose, rainbow swirl (which we have and adore)
Who it's for: Anybody who likes to have a good time with snacks and cold drinks at the ready.
Pro-tip: If you make an adult beverage in the drink tank, just leave it in there when the day is done instead of fighting to fit it in your refrigerator. With the remaining ice in the cooler, the Brütank is basically like a fridge until the next day.
The specs
You've probably heard of Brümate before — they have tons of coolers, insulated tumblers, and other accessories. But the 55-quart Brütank is unlike anything you've ever seen. It holds 50 12-oz. slim cans (the tall skinny ones seltzers come in), 48 standard 12-oz. cans, 12 wine bottles, or 40 lbs. of ice. How you divvy up that capacity between those items (and the 2.8-gallon drink tank, which pops in and out) is up to you.
Don't worry about packing it too full, though. The Brütank has these massive rugged wheels that we have personally rolled on gravel, sidewalks, pavement, and both soft, fluffy, burn-your-feet Atlantic Ocean sand, and the hard, packed sand that looks like brown sugar. Even with tons of stuff inside (it can hold up to 40 lbs. of ice plus drinks), it's still easy to pull. The handle is huge, and it actually isn't too heavy to lift up or in and out of boats, truck beds, et cetera.
Another fun piece? The little wire basket inside. It fits right on the lip of the cooler, above the ice and drinks, and we fill it with snacks for our kids. No need for an extra snack bag, no need to worry about snacks getting wet or crushed by water bottles. It's perfection.
How long does ice last in a Brümate cooler, you say? Brümate says that the Brütank has a 7-day ice retention capability, and I fully believe it. It also comes with a foam-top, huge rubber handles that seal the lid tightly with ease, and a bottle opener on the inside of the lid. Even the drain plug is amazing — it has a T-shaped piece attached to it so that it stays hanging from the cooler and you don't have to worry about losing it.
But the crème de la crème? The part of this cooler that will make everyone at the pool watch you roll by with envy? It's the drink tank. Guys, this thing is massive. It's 2.8 gallons, and I don't know a lot of math, but I can tell you that we doubled a recipe for cucumber jalapeño margaritas (so we had two 750-ml bottles of tequila inside) and it barely filled this tank. It's enormous, so easy to clean, and just so fun for when you have a bunch of friends around. The drink tank is tapped from the cooler on the outside, so you can just fill your cup straight from the side. We keep some ice in a bag inside the cooler for people to scoop and then tap and fill.
And if you don't want to use the drink-tank? You just pop it out, and then you can fill the entire cooler up with cans, bottles, juices, whatever. There's even a separate piece that replaces the tap as a plug so that you don't have to worry about water and ice leaking out.
The Brütank's all-terrain tires are a game-changer.Brümate
A peek inside the cooler at the drink tank and snack basket.Brümate
The foam, no-slip top.Brümate
The maintenance
Look, I'll just be honest: my husband and I have left plenty a cooler out too long in the Georgia sun or sitting in the corner of our laundry room, only to open it for our next fun day and discovered mildew and old, slimy cans of Sweetwater floating around inside.
The Brümate Brütank cooler? Yeah, you're not going to let that happen. For one thing, it's so easy to clean. You can pull out the drink tank and get all up in those crevices to wash and dry, and the inside of the cooler itself wipes down like a dream.
But really, the easiest part of cleaning this is that we have left it sitting out for a solid 24 hours after we've used it for a pool day, and the ice was still there. We've made drinks in the drink tank on a Saturday, kept the leftovers inside, and taken the whole thing back to the pool on Sunday and it's still ice cold. The maintenance on the Brümate Brütank cooler is so good because the cooler itself is just so good. No weird little edges for mildew to grow, no weird dip in the bottom where water collects when you're trying to drain it — it's just the best.
Similar products
Other cooler brands have their version of the Brütank, but they all fall short in one way or another. Yeti sells multiple wheeled coolers, but the closest in size and shape to the Brütank is their Tundra Haul Wheeled Cooler. It'll hold a little more than our trusty Brütank, but its dry basket and other accessories are sold separately (on top of already being pricier than Brümate's cooler), and there's no drink tank or tap. Same goes for RTIC's 52-qt. Ultra-Light Wheeled Cooler: no drink tank, basket sold separately, and pricier than a Brütank (though RTIC does run some great sales from time to time).
Pros & cons
Pros:
Even full of ice, cans, snacks, bottles, and a double batch of margaritas in the drink tank, it's easy to roll and not impossibly heavy to lift up and down.
The foam top is great for setting your drinks on so they don't slip and slide all over the cooler.
The rainbow swirl is such a great color, and really makes it easy to spot your cooler in a sea of others on the beach.
The drink tank is also great if you don't want adult beverages — fill it up as just a big tank of ice water and then you never have to carry another water bottle again. Hooray!
Everything is removable, so you can really customize the inside of the cooler to fit your needs.
Cons:
It's expensive. I mean, it just is.
There is a valve on the cooler lid that twists open to allow whatever's in the drink tank to flow nicely from the tap. Sometimes it confuses new users (like new people we befriend at the pool) but once you know, you know.
Sometimes the drinks get a little low in the drink-tank and the tap can't quite get it all, so we just tip the cooler forward a smidge to help it flow.
The final verdict
The Brümate Brütank is just the best. I know its intended purpose is not to make friends, but it honestly has been a great way for us to get to know our neighbors and people at parties because they A) want to come up and tell us how great our cooler is and B) we can then be like "Would you like a hurricane from the tap?" I'm not saying you need to always keep the drink tank full so you can make new friendships, I'm just saying it's not a bad idea. We use this cooler constantly — at least twice a week — and it has really helped us cut down on bags we have to schlep to the beach/pool and made getting out to enjoy things as a family a little bit easier.
The TL;DR
I wish I could invite you all over for a pool day and a cocktail straight from the cooler tap. Don't worry, we've got lime wedges and Tajín seasoning for the rim right there in the wire basket.
Had To Share highlights the products and finds that Romper editors and contributors love so much, we just had to share in the group chat.