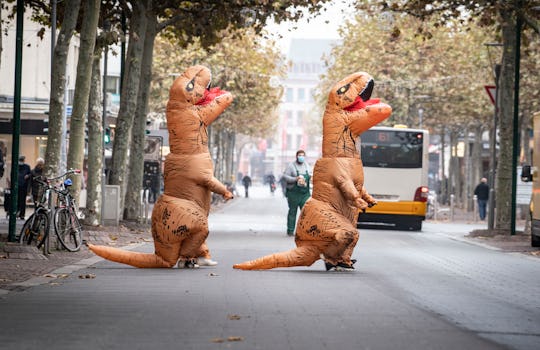 picture alliance/picture alliance/Getty Images
Inflatable Costumes Are A Scourge & My Kid Desperately Wants One
$50 for a giant parachute in the shape of a dinosaur? Come on.
We may receive a portion of sales if you purchase a product through a link in this article.
"My kid can be or do whatever they want, as long as they're happy" is a nice parenting sentiment. It's one I fully believed in, said out loud, and felt in my whole entire body — or I did until my 9-year-old discovered the inflatable costume aisle at Spirit Halloween.
I am not a Halloween curmudgeon. I don't mind if my kid wants to buy a $50 cheap-*ss polyester princess dress and go as Snow White, the most boring of all princesses, for Halloween. I've spent a lot of money on a toddler-sized Stay Puft Marshmallow Man costume that was worn once, and I will stupidly shape pancakes into ghosts for all of October, pumpkins littering every surface of my house.
But the inflatable costumes: Why?
They are not particularly clever. They are overpriced. They are hugely cumbersome to store in your house.
I'm imagining my child wearing one, barely able to see out of the little mesh opening someone has made. I'm imagining having to also buy batteries for this thing, hoping they don't run out before the night is over. I'm imagining going to the church trunk or treat and the town's Halloween celebration and having to deflate her over and over again and then pump her back up so her inflatable feathers can knock into her little sisters all night.
"My kid can be or do whatever they want, as long as they're happy" is a nice parenting sentiment. It's one I fully believed in until my 9-year-old discovered the inflatable costume aisle at Spirit Halloween.
And then, I'm imagining all of the other costumes I'd rather her be because I feel like an inflatable chicken is so boring and not really her and I suggest to her that maybe she could be Kat from Casper and we could make a balloon into the friendly ghost and tie it around her waist so it follows her around all day and her eyes light up and she says, "Oh!" and I think, Oh, thank God, and then she says, "But I really want to be the inflatable chicken."
Please marvel at just how unhinged these costumes can get:
I've been a mom for nine years, so I've learned a few things about myself during this time. And one of the things I've learned is that being known as the Good Mom Who Somehow Does It All is really important to me because it's who I want to be. I can, hand to heart, tell you that I don't make my kids' Halloween costumes because of the societal pressure to be a Pinterest mom or because I want everyone to think I'm amazing — I really do make them because I love it and enjoy it. But that's not to say I don't also like the accolades. I like the "I can't believe you made this!" comments, and I like the "You're the best mom ever" compliments, and I like to tell people, "Oh, my God, no, you should see the state of my house" because I want them to know that I can make homemade Halloween costumes, but that's because I let other things like laundry and dishes go to the wayside.
An inflatable chicken costume? It just doesn't do it for me.
But I bought it anyway.
Because while I kept thinking about how it'll just be buried in the bottom of my kid's closet come Nov. 1, I can honestly see her pulling it out again to wear as a joke at sleepovers. And I know how proud she'll be to wear it — I know how much all of her friends will love it — because this inflatable chicken costume represents pure silliness to her. If you ask my girl, "being silly and funny is kind of like my thing," and when she put the costume on the day we brought it home, all of us fell over laughing. It was funny. And as she turned off the battery pack and unzipped the enormous flapping costume, she said to me, "I got exactly what I wanted." I thought she meant the costume of her dreams, but no. "Everyone's laughter," she said.
I still don't think inflatable costumes are very clever. But I do really love supporting my girl and her quest to be known as the funniest, silliest kid in the world. In fact, being behind all of her silly endeavors, all of the things that make her such a fun 9-year-old and remind me that I'll never have her here at this age, at this moment, ever again, and I will miss all of these versions of her (even the one that wants a $50 inflatable chicken costume for Halloween), kind of makes me "the best mom ever" too.