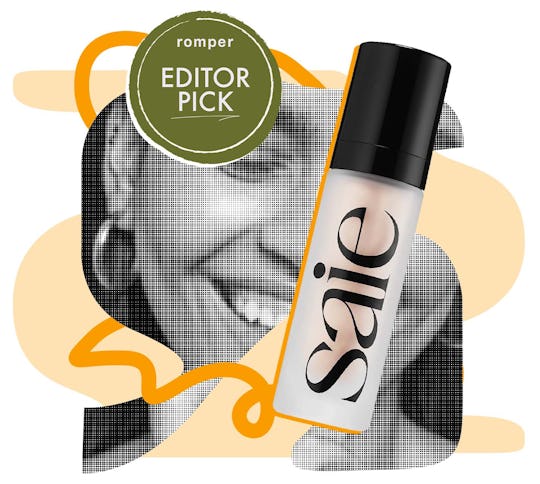 This $28 Liquid Highlighter Makes My Bedraggled Skin Actually Look Healthy
I only *look* like someone who drinks her greens.
Had To Share
We may receive a portion of sales if you purchase a product through a link in this article.
If you've never had a toddler, you should know one thing now: like Liam Neeson, they have a very special set of skills, except that instead of rescuing you from imminent harm, they personally push you to the brink. I often get to the end of a day and realize I forgot to drink any water, I'm constantly behind on sleep, and the elaborate skincare routine I used to do before bed is now a thing of the past. I've always had dry skin, which is truer now than ever, and I covet the uber-hydrated, glowing-from-within look. So, when Saie reached out to ask if I wanted to try their Glowy Super Gel Lightweight Dewy Highlighter, I was excited but skeptical of how it would look on me. Adding more glow usually just emphasizes my pores and flakes.
When I tell you that this product takes me from dull, sleep-deprived zombie skin to looking like one of those glowy youths known for their GRWM TikTok videos, I'm not exaggerating. It has quickly risen in the ranks and beat out all my old highlighters for the title of "favorite," whether I want to use it for a natural looking highlighter or as part of a full glam moment. And while it's not called a primer, it absolutely performs like one under makeup, adding a soft and natural glow to my foundation (while somehow not emphasizing my pores at all). Any product that does double duty — and does it this well — will always have a home on my vanity.
Stats
Price: $28 for the standard size, $16 for the miniature size
Sizes: The standard bottle contains 1 ounce of product; the mini has 0.5 ounces.
Shades: Starglow, described as a "universal champagne," and Sunglow, a "warm golden bronze."
Who it's for: Makeup wearers who want the perfect highlighter on no-makeup days, or an illuminating primer to wear under foundation.
Pro-tip: The bottle is huge, so you have enough product to try this as an all-over illuminating primer. It works beautifully this way for me.
The ingredients
Like every other makeup product, the Saie Glowy Super Gel has a bunch of ingredients in it that only a biochemist could pronounce. The notable details here are that its formulated without silicones, if you're not a fan of them, and sans gluten, which is important for those with an allergy to it.
The product is made up of 75% water and skincare ingredients, like vitamin C to brighten skin, rose hip seed oil to moisturize and provide antioxidants, and plant-derived glycerin to draw moisture into the skin more effectively.
The packaging
One of my favorite things about the Saie Glowy Super Gel is that it has a pump. Most of my other liquid and cream highlighters require me to use my hands on my skin, stick my fingers into the product, or touch a doe foot applicator to my skin and then stick it back into the bottle (contaminating the whole thing). With Saie's pump top, I can use my hands to apply the highlighter if they're clean, or squirt it directly on to a sponge if I'd rather. No air ever contacts the product so I have zero concerns it will dry out, there's no mess, and I don't have to violently twist and squeeze the last bits of product out of a tube when it's running low. We just need to put pumps on everything, OK makeup brands?
The bottle itself is glass with a heavy base so it feels luxurious in the hand and looks sleek on my bathroom counter. The lid clicks on securely, but not so tightly I can't pop it off with one hand mid-makeup application. I'm not sure how much I'd trust the the lid while traveling, but it stays on just fine coming in and out of drawers in the bathroom.
How I use it
Most days I'm just doing daycare drop-off and pickup and working from home, with the occasional Zoom meeting — no need for full glam, basically. I'll pop on concealer under my eyes and over redness or blemishes, fix the ol' eyebrows, and apply some mascara and liquid blush. To finish, I pop a little bit of the Saie Glowy Super Gel on the high points of my face (cheekbones, bridge of the nose, Cupid's bow, and brow bones).
If I'm going out for drinks with friends or to dinner with my husband, I'll add a little foundation and use the Saie as a primer underneath. It doesn't affect the wear time of my foundation at all, but definitely adds a luminous touch. And no matter how I wear it, it never makes my pores more obvious.
How Saie Glowy Super Gel compares to other liquid highlighters
Personally, when it comes to a liquid highlighter, I need it to be versatile. I don't wear foundation day-to-day, so I need something that I can pop over a liquid blush without it looking out of place (i.e. too pigmented, metallic, or glittery). Here's how the Saie Glowy Super Gel stacks up to the other liquid and cream highlighters in my collection, if you need to compare and contrast it to your own:
While I do love and use all of these products, if I were to clean house and only keep one, it would undoubtedly be the Saie Glowy Super Gel.
Pros & cons
Pros:
It has a pump! Praise be!
It serves two purposes: liquid highlighter and dewy primer.
The formula is vegan and cruelty-free.
Saie has earned multiple certifications from environmental organizations for their efforts to help the planet. For example, they're carbon neutral, and remove more plastic waste from the environment than they produce. They'll even pay for you to ship them your empties so they can ensure they're recycled properly.
An ounce of product doesn't sound like much, but used as a highlighter, it'll last forever.
Cons:
While the product doesn't have any tint when blended out, there are only two shades, so folks with deeper skin tones may want to test them in-store before purchasing just to be safe.
Because the bottle is large, the product might expire before you use it up.
If you like to wear a full face of makeup most days, this product may not pack enough punch for you. It doesn't build up, meaning even with a second layer, the glow doesn't get more intense.
It's got a skincare feel, so if you don't set it with a powder, it maintains a slightly tacky finish. (For me, this is a pro, but I have absurdly dry skin.)
The final verdict
You know that one scene in Ferngully where the fairies are jumping through pools of water that glow after they're touched? I think that's where they source the water for the Saie liquid highlighter.
I'm a Dr.-Pepper-a-day, stay-up-late-scrolling kind of gal who wakes up before 7 every day with a toddler, but this highlighter makes me look like I exclusively drink cucumber-infused water, take all the collagen supplements, and get 12 hours of beauty rest a night. Plus, the fact that it has some skincare ingredients built in helps me feel like I'm not just faking it 'til I make it on the glowy skin front, but actually moisturizing and hydrating.
The TL;DR
No glitter, no tint, no B.S. — just a lit-from-within, natural, healthy glow.
Had To Share highlights the products and finds that Romper editors and contributors love so much, we just had to share in the group chat.