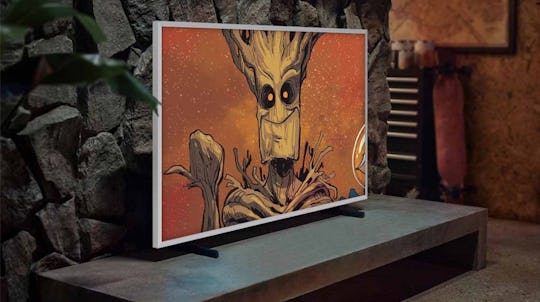 The Samsung Frame TV Now Comes In A Disney Version
You're going to love all the art.
We may receive a portion of sales if you purchase a product through a link in this article.
I'm a big fan of our house looking lived in (we have three girls, a cat, and a dog — it is lived in), but I'm also a big fan of technology that doesn't look like technology. And with a husband who is obsessed with all the sports, having an enormous TV that actually looks nice in our living room is a major perk. Enter the Samsung Disney Frame TV — you've probably heard of the original Samsung Frame TV that has taken over your Instagram feed with its seamless lines and wide variety of "artwork" to feature on the screen so your TV looks more like a work of art on the wall. But now, in collaboration with Disney for Disney's 100th anniversary, Samsung has a Disney Frame TV that's perfect for every family.
Like the original Samsung Frame TV, the Disney version has bezels, but this version comes in an exclusive Disney 100 signature color of platinum silver metal. Along with the new bezel color, the Samsung Disney Frame TV remote also features a subtle nod to Mickey Mouse with the buttons in the shape of his iconic ears. But the best part is absolutely the Disney art — there are 100 pieces of Disney art available in the Samsung Disney Frame TV, and it's a huge variety. There are images from Marvel, Pixar, Disney Animation Studios, Lucasfilm, and even National Geographic.
The Samsung Frame Disney TV in the author's home.
The Samsung Disney Frame TV comes in three sizes — 55", 65", and 75" — and we are in love. Even if you don't have a wall to hang your TV on (like us), it still looks incredibly sleek and nice with the matte black attachable legs. Our family room where the Samsung Disney Frame TV resides is very cozy, so I don't like anything too flashy, and I was pleasantly surprised at just how nice the Frame TV looked on the same TV stand we had before. Our girls love the remote — which isn't too small or too big, it's pretty perfect — but they really love all of the artwork available. They spent a long time finding just the right art to display, and then took turns picking a new one. It kept them entertained forever, and we even played a little family game of trying to guess the next piece of art, or having the kids ask us where some pieces of art came from, especially if it was a movie they hadn't seen before.
Did I also mention that the remote comes with Disney+, Prime Video, and Netflix buttons? Our gaming systems automatically connected as well, along with our phones and our oldest daughter's iPad so she can stream straight from her device if she wants. It was a flawless setup and according to my husband, it's perfect for football games. (You're welcome.)
If you were ready to grab a Samsung Frame TV anyway, you might as well try the Samsung Disney Frame TV. It's available for a limited time while supplies last.