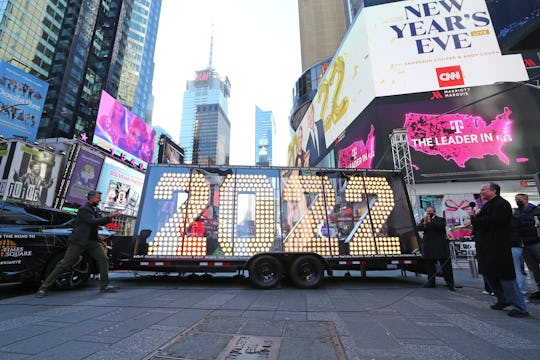 Rob Kim/Getty Images Entertainment/Getty Images
These NYE Specials Will Give 2021 A Proper Goodbye & 2022 An Exciting Hello
We're bringing the party to Puerto Rico this year!
Whether you're planning to go out or bring the new year in at home, New Year's Eve night is just not complete without watching the ball drop on TV somewhere. While one planned special, FOX's New Year's Eve Toast & Roast 2022, has been canceled due to rising omicron cases, there are still several to tune into on Dec. 31.
This year's New Year's Eve shows are specials in many ways. For starters, two major networks will broadcast their first New Year's Eve specials in Puerto Rico, including a Spanish-speaking special.
Currently, FOX's New Year's Eve Toast & Roast 2022 in Times Square, has been canceled, but the network said in a statement that replacement programming "will be announced in the coming days."
Nonetheless, festivities this year will still take place in all several other parts of the country, highlighting the unique culture that makes the U.S. pretty cool. You can also look forward to a magical duet with LL Cool J and Billy Porter. And New Year's Eve wouldn't be complete without fireworks.
Below are five New Year's Eve specials that are set to air on Dec. 31. Alternate between them all or stick to one, either way, you can't go wrong with how you say goodbye to 2021!