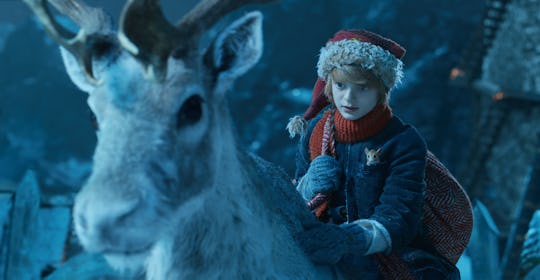 Netflix
A Boy Called Christmas On Netflix Shows Us Santa As A Young Boy
Who doesn't want to see Santa Claus as a kid?
The world loves Santa Claus. The world also loves an origin story. So what better movie to watch this holiday season than A Boy Called Christmas on Netflix? If you love a cozy Christmas story about Santa Claus as a child told by none other than Dame Maggie Smith herself, you are in for a real treat. Here's what you else need to know about A Boy Called Christmas on Netflix.
A Boy Called Christmas is based on a book.
A Boy Called Christmas is based on the 2015 children's book of the same name written by Matt Haig and illustrated by Chris Mould. The book and upcoming movie tell the story of a sweet 11-year-old boy named Nikolaus, who lives in a time before Christmas is a thing. In the movie version of A Boy Called Christmas, the Netflix synopsis notes that an "ordinary young boy called Nikolas sets out on an extraordinary adventure into the snowy north in search of his father who is on a quest to discover the fabled village of the elves, Elfhelm. Taking with him a headstrong reindeer called Blitzen and a loyal pet mouse, Nikolas soon meets his destiny in this magical, comic and endearing story that proves nothing is impossible."
A Boy Called Christmas is a magical film for the holidays.
There's something gentle and comforting about A Boy Called Christmas. Perhaps it's Maggie Smith trudging through a beautiful snowy street to tell the story of Nikolaus to two children, or perhaps it's the world of young Nikolaus (played by newcomer Henry Lawfull) that lends itself to feeling like a warm hug on a cold morning.
'A Boy Called Christmas' looks magical.
"Long ago, nobody knew about Christmas," Smith explained in the original trailer as we see Nikolaus and his mouse getting into adventures with all sorts of snowy creatures. "Until a boy showed the world how to believe in the impossible."
Nikolaus, of course, is only at the beginning of his life-long adventure.
A Boy Called Christmas features an all-star cast.
Alongside Lawfull and Maggie Smith, Kristen Wiig stars in the upcoming movie. Sally Hawkins, Stephen Merchant, Jim Broadbent, and Toby Jones also appear in A Boy Called Christmas.
What age is A Boy Called Christmas appropriate for?
A Boy Called Christmas is rated PG for scenes of peril, and Common Sense Media recommends the movie as a "warm, festive, family adventure" that will probably be best for kids over the age of 8 due to some scary scenes and a parental death.
A Boy Called Christmas was made by the same people who produced the Netflix holiday classic movies The Christmas Chronicles and The Christmas Chronicles, Part 2, so you know it's loads of fun.
This article was originally published on