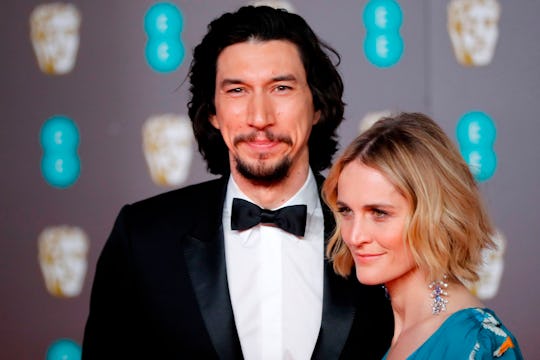 TOLGA AKMEN/AFP/Getty Images
Adam Driver & Wife Joanne Tucker Are Expecting Baby #2
The Marriage Story actor once said protecting his kids is a "military operation" for him.
Adam Driver likes to keep his personal life private. The Marriage Story star goes out of his way to keep his family out of the public eye, which could be a bit more of a task in the near future as his family gets bigger. Indeed, multiple media outlets reported that Driver and his wife, Joanne Tucker, are expecting their second child together. Here's what else you need to know about the 39-year-old actor's growing family.
Adam Driver met his wife at Juilliard.
After serving two years in the Marines and suffering a serious injury due to a mountain bike accident, Driver switched careers and attended Juilliard to study acting in the 2000s. There he met a fellow acting student named Joanne Tucker, where the two bonded over their love of cheese and Tucker taught the Indiana native how to navigate New York City. The pair went on to co-found Arts in the Armed Forces, an organization that "honors and enriches the lives of the U.S. military community by offering powerful shared experiences in theater and film."
They married in a "secret ceremony" in 2013.
Back in 2013, Driver and Tucker, whose credits include movies like The Report and Give Or Take, married in a secret ceremony, according to Us Weekly. At the time, Driver was working on the HBO hit Girls, and a source told Us Weekly that he and Tucker were "very comfortable" with each other. "They've been dating forever — years — and live together," the source said. "They're very comfortable and in love. She was with him before the Girls fame. They both love theater and the arts."
They welcomed their first child, a son, in 2016.
Tucker and Driver reportedly welcomed a son in 2016, but The Force Awakens actor didn't confirm his son's arrival officially until 2019. Driver likened protecting his son's identity as "akin to a military operation" in a 2019 interview with the New Yorker. "My job is to be a spy — to be in public and live life and have experience. But, when you feel like you're the focus, it's really hard to do that," he told the magazine. There are no photos of his son and the couple have never shared his name, so clearly the military operation has been a success.
They'll soon be parents of two.
Page Six shared the news in February that Driver and Tucker are reportedly expecting their second baby, and in true Adam Driver form this was not an official announcement. (Romper's request for comment from Driver's rep was not immediately returned.) The two were seen out shopping for baby items like a bath tub and a recliner in New York with Tucker sporting a visible baby bump. It seems Driver's military operation of protecting his kids' privacy just got more serious.