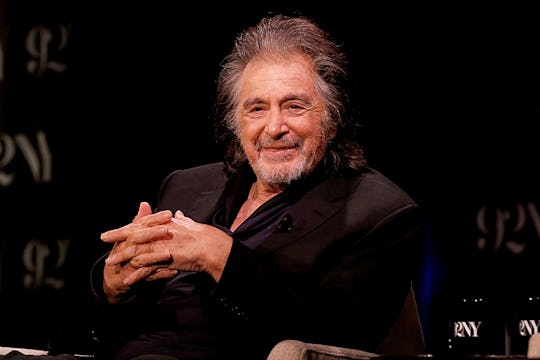 Dominik Bindl/Getty Images Entertainment/Getty Images
Al Pacino Welcomed A Baby Boy, His Fourth Child, At 83 Years Old With Noor Alfallah
The Godfather actor gave his newborn son a strong name.
Father's Day is going to be a big deal in the Pacino household this year. At 83 years old, Godfather actor Al Pacino has added to his family once again as his girlfriend Noor Alfallah gave birth to a baby boy, his fourth child.
Al Pacino welcomed his fourth child with girlfriend Noor Alfallah in June 2023.
On June 15, a representative for Pacino announced in a statement that Pacino and his 29-year-old girlfriend Noor Alfallah had welcomed a baby boy together. "I am confirming that Al Pacino and Noor Alfallah have welcomed a son, named Roman Pacino," the statement read, per NBC News. "No other statement or comments will be provided."
The Scent of a Woman star first confirmed news that he and Alfallah were expecting a baby through his representative last month, mere days after his 78-year-old Godfather co-star Robert De Niro announced that he and girlfriend Tiffany Chen had welcomed their baby girl Gia. While Pacino has not spoken publicly about his child's birth, he talked to The Guardian in 2015 about feeling "responsible" as a dad after his own experience of being abandoned by his dad when he was just 2 years old. "My father wasn't in my life from then. I wanted to be different with my children. I wanted to be responsible to them, so I divide my time between two coasts."
Now he has another little one to include in his life. In addition to little Roman, here's what else you need to know about Pacino's kids.
Julie Pacino, 33.
Pacino welcomed his oldest daughter Julie with ex-girlfriend, acting coach Jan Tarrant, in 1989. Much like her dad, Julie went into film after being inspired by spending time on sets with her dad. "As a child I was always making little shorts with my friends and writing stories to act out," she told her alma mater the New York Film Academy in 2013. "I remember visiting film sets as a kid and always being incredibly intrigued by the alternate reality that I was stepping into."
She co-founded Poverty Row Entertainment with her friend Jennifer DeLia, a production company dedicated to making short films that look at the way gender and sexuality affect art. Also like her dad, Julie has won several awards for her work including best director at the Venice Shorts Film Festival and a silver for comedy at the Hollywood Gold Awards, both in 2020.
Anton Pacino, 22.
Pacino waited 11 years to become a dad again, this time with ex-girlfriend and Christmas Vacation star Beverly D'Angelo. The former couple welcomed twins Anton and Olivia in 2001. Anton has stayed off social media so not much is known about him, but certainly he contributed to his dad's new world view. "Kids changed my perspective," Pacino told The Guardian in 2015. "Before I had my three, I'd walk around in my own head, not noticing anything. Acting used to be everything; now, because of them, it's just a small part."
Olivia Pacino, 22.
Anton's twin sister Olivia does have an active social media presence, where she posts about trips to Las Vegas, fun with her friends, and every once in a while her dad, who she called "not only my inspiration but my best friend and the best father I could ever ask for," in a sweet birthday post.
Roman Pacino, born in June 2023.
Now that little Roman Pacino has arrived, the actor is a dad of four.