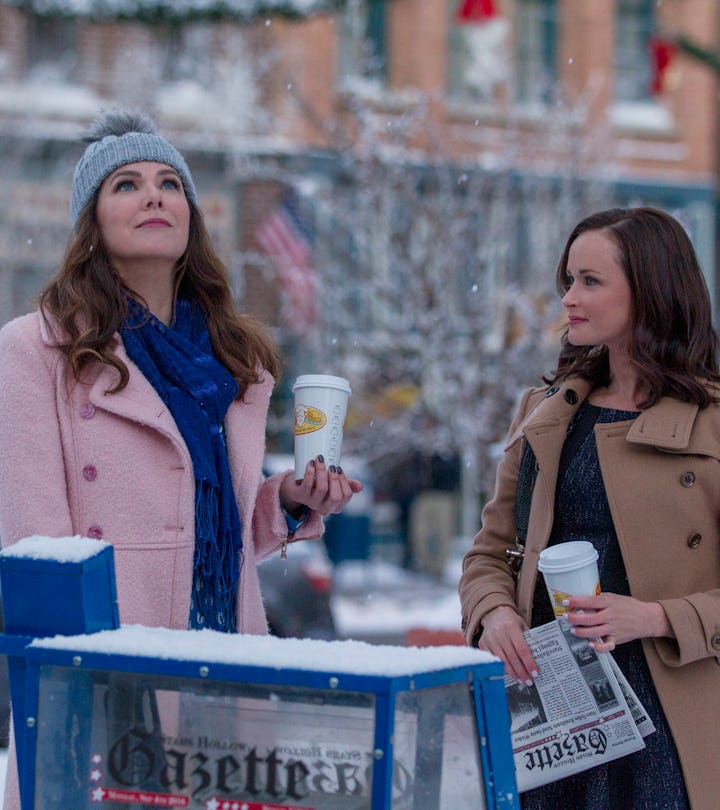 Netflix
Here Are All 7 Gilmore Girls Christmas Episodes, Ranked
Holiday movie watching is upon us, but sometimes you need a break from those heavy-hitters. Your It's A Wonderful Life, your Christmas Story, Scrooged, and what have you. Sometimes you want a comfort watch, a toe-dip into the Yule pool, if you will. And there is no better comfort watch out there than hanging out with Lorelai and Rory through all of the Gilmore Girls Christmas episodes. Be warned, some of these episodes could better be described as Christmas adjacent...
Gilmore Girls remains a favorite for its loyal viewers despite the fact that the regular series ended in 2007. Lorelai and Rory Gilmore, played by Lauren Graham and Alexis Bledel, were everyone's best-loved mother/daughter duo. The fictional town of Star's Hollow also wormed its way into viewers' hearts. A cast of eccentric characters like Lorelai's best friend and co-owner of the Dragonfly Inn Sookie St. James (Melissa McCarthy), next door neighbor Babette Dell (Sally Struthers), and Kirk Gleason (Sean Gunn) were just a few of the people fans tuned in to see every week for seven seasons (and again for the four part Netflix miniseries A Year In The Life directed by Gilmore Girls creators Dan and Amy Sherman-Palladino).
The show was never more comforting than during the Christmas season, whether the characters were enjoying their holiday or not. And now you can watch them whenever you want on Netflix, so here they are.
This article was originally published on