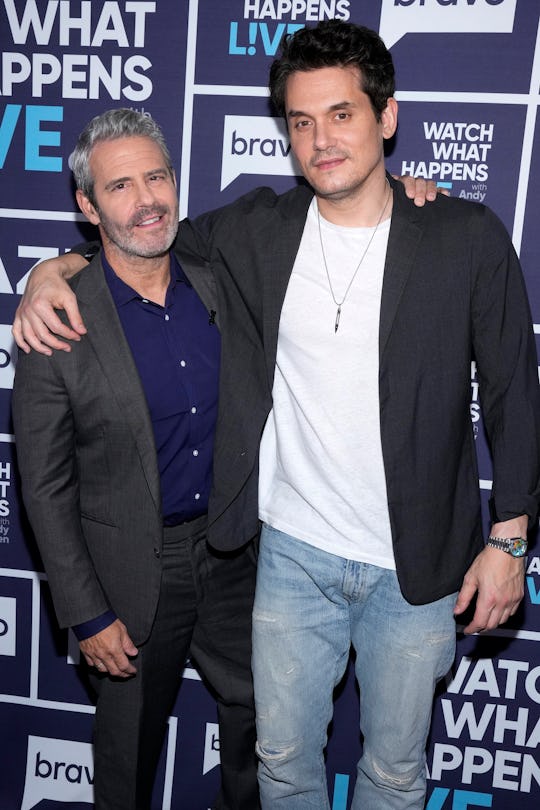 Bravo/NBCUniversal/Getty Images
Andy Cohen Took 4-Year-Old Son Ben To See "Uncle John" For His First Concert
Of course he had a backstage pass!
Andy Cohen's 4-year-old son Benjamin just got the royal treatment at his very first concert. He joined his dad this week to go see his "Uncle John's band," or as the rest of us know him, John Mayer. And little Ben was treated to an up close and personal experience with Mayer, including his own personalized backstage pass.
The Watch What Happens Live! host took to Instagram on Thursday to share a few photos from his night out with his son Ben, whom he is raising as a single dad along with 1-year-old daughter Lucy. The pair went to see Cohen's longtime friend John Mayer in concert at Madison Square Garden in New York City on Wednesday as part of the singer's John Mayer SOLO tour, which marked the first time the 4-year-old went to see a concert.
"Come, hear Uncle John's Band! First concert of what I hope will be a long run of them," Cohen captioned the post featuring a series of photos from the evening. One from backstage shows him and Ben holding hands as they watch Mayer perform; another features Ben on his dad's shoulders; and the last is a photo of his son's backstage pass reading "Ben Cohen" which we all know is going in the keepsake collection.
John Mayer has been a friend of Andy Cohen's and, by extension, Andy Cohen's family for a long time. The Bravo host recently shared a photo of his mom steaming one of Mayer's shirts while he was staying with him as a houseguest, with the singer standing behind her looking amused. As for Mayer's relationship with little Ben, he was there for him on his third birthday and called it "a really really special and joyous day" when Cohen posted about the occasion on Instagram.
As for how Ben felt about his first concert, we don't know yet. Given what we already know about young Ben Cohen, it stands to reason that he will ruminate on how things went and let us know: he has a complicated system of calculations that Cohen is forbidden from correcting that help him decide if he's going to behave or have a good time. (He developed this skill, it seems, at summer camp.)
We hope his calculations were positive for Uncle John's concert. But really, there's just no way of knowing for sure.