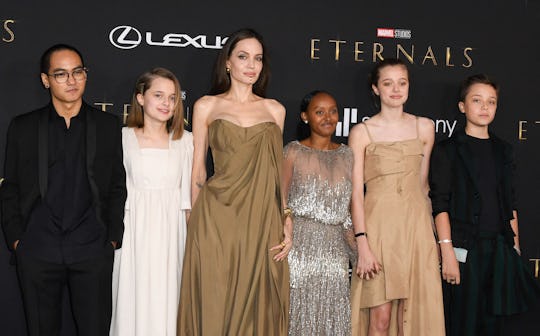 VALERIE MACON/AFP/Getty Images
Angelina Jolie Embraces That She's The Person Her Children "Laugh At"
"I'm the mother, and hopefully that safe place for them and that stability."
Angelina Jolie was just 26 years old when she became a mom for the first time. That means she has spent almost her entire adult life as a parent, and in many ways has sort of grown up with her children. And in a recent interview with Vogue to launch her new fashion collection, Jolie opened up about hoping to be a "safe place" for her kids... even if they do tend to laugh at her a lot. A clear sign she is deep into the teen years.
Jolie brought two of her children, 19-year-old son Pax and 18-year-old daughter Zahara, to a photo shoot with Vogue, as they were involved in her new fashion line Atelier Jolie from the beginning. They, along with 22-year-old brother Maddox, 17-year-old sister Shiloh, and 15-year-old twins Vivienne and Knox, have helped to shape more than just her fashion line. They have shaped her entire life. "I was 26 when I became a mother," she told Vogue. "My entire life changed. Having children saved me — and taught me to be in this world differently."
The mom of six went on to admit that recently she would have "gone under in a much darker way" if not for her children, who she shares with ex-husband Brad Pitt. "They're better than me, because you want your children to be. Of course I'm the mother, and hopefully that safe place for them and that stability."
While she's happy to offer a safe place for her kids and some stability, Jolie also recognizes that a little silliness in the home goes a long way. "I'm also the one that they laugh at — and I see them taking over so many different aspects of our family."
Jolie's kids have a long history of teasing their mom, like when they were worried she might injure herself on a trampoline in 2021. "We were on the trampoline the other day, and the children said, 'No, Mom, don't do that. You'll hurt yourself,'" she told Vogue in 2021. "And I thought, 'God, isn't that funny?' There was a day I was an action star, and now the kids are telling me to get off the trampoline because I'll hurt myself."
Angelina Jolie is learning slowly the way of things as kids get older. You get older too, way older in their eyes.