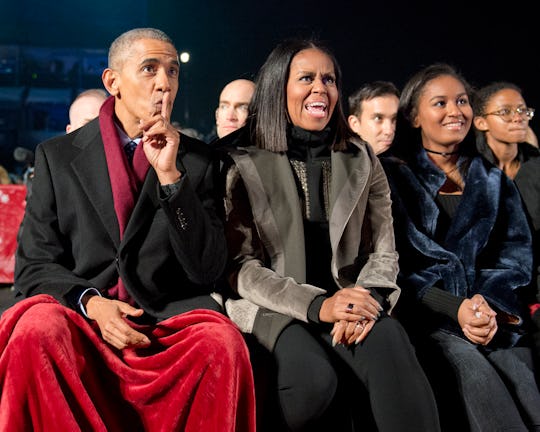 Pool/Getty Images News/Getty Images
The Obamas Shared The Most Precious Baby Photos Of Sasha On Her 21st Birthday
"You'll always be my baby girl."
Sasha Obama turned 21 years old on Friday, and both of her parents were clearly feeling nostalgic for her baby years. Or more specifically, her precious little baby cheeks. Both Michelle and Barack Obama shared the sweetest baby photos of Sasha for her 21st birthday, and they couldn't help getting emotional over the woman she's become.
The Obamas have become empty nesters again now that their daughters Malia and Sasha have gone back to their lives after hunkering down at home with their parents during the pandemic. In fact, that extra time with their daughters living back at home could very well be exactly why both Michelle and Barack Obama are feeling a bit nostalgic. "It was an extra special treat to have them. That little bit of time. Because being with them as adults, it's fun!" Michelle Obama told Ellen DeGeneres in a recent interview. "I love them at every age."
Now that Sasha has gone back to college and 23-year-old Malia has gone back to work, their parents are clearly missing them. Hence the adorable baby photos of Sasha they both shared on social media to celebrate her birthday.
"Happy birthday, Sasha!" Barack Obama wrote on Twitter. "I have loved watching you grow into the intelligent, beautiful, and caring young woman you've become. And no matter how old you get — you'll always be my baby girl. Look at those cheeks!"
Look at those cheeks indeed.
Michelle Obama shared a similar message alongside a photo of her daughter from around the same age, this time with a big grin on her face. "My baby has grown into a beautiful, independent, compassionate, highly capable young woman. But you will always be my littlest pea. I'm so proud of the human you are becoming. Love, your Mommy."
Her parents weren't the only ones gushing over Sasha as a baby. "Those squishy cheeks, Happy Birthday Sasha," wrote one Instagram user while another added, "I was coming to comment on her cheeks, Mr. President. Happy Birthday, Sasha!"
These days Sasha Obama apparently has a boyfriend, or so her mother Michelle told Ellen DeGeneres, and her own life beyond the scope of her parents' home. But, as with most parents, Barack and Michelle Obama will always see a little bit of that sweet-cheeked baby girl in their grown up daughter's face. It simply cannot be helped.