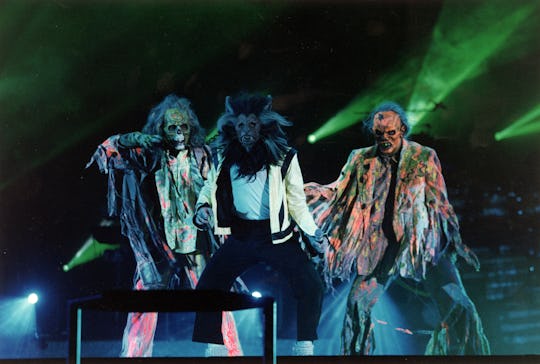 Dave Hogan/Hulton Archive/Getty Images
20 Catchy Songs To Get You In The Mood For A Groovy & Spooky Halloween
Get ready to set the tone for the best time of the year.
Christmas music really gets all of the good press for holiday sounds. You have your "Jingle Bells," your "Rocking Around The Christmas Tree," all of those old standards that really bring you back to those festive vibes. But the reality is, Halloween music is where it's at. First of all, Halloween music is more translatable for the rest of the year. You can listen to some traditionally spooky songs in February and they'll sound just as good as they do in October. Also an argument could be made that Halloween music lends itself to more of a party atmosphere with friends rather than a cozy atmosphere with family.
These Halloween songs in particular are all pretty groovy, danceable jams that are popular with young trick-or-treaters and grown-up costume party-goers alike. Because it's all about squeezing every bit of fun and nostalgia possible out of the season, right?
Halloween songs have actually not been around for very long, probably because Halloween as we know it hasn't been around all that long either. While the concept of the spooky holiday originated around 2000 years ago as a Celtic tradition called Samhain, a celebration of the end of the harvest, the modern version of Halloween, with the trick-or-treating and costumes, came around in the late 1800s.
It would take several more decades before the world started to make some of that sweet, sweet Halloween music that sets the tone for the spooky season.
The spooky season is all about setting a certain vibe. Whether that vibe is cozy or terrifying or somewhere in between, you need music to get you there. People are strange that way.
This article was originally published on