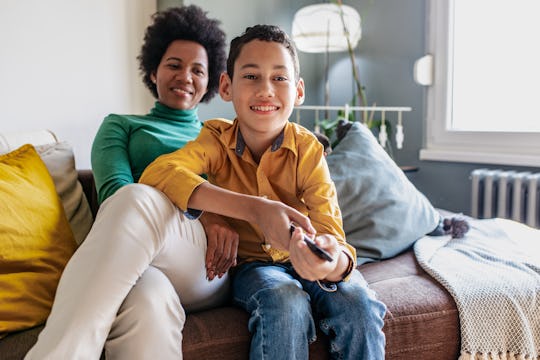 Riska, Getty images
17 Movies To Watch With Your Son On Mother's Day
They'll make you want to give your son an extra squeeze.
There's nothing like a good movie to clear the mind. And with Mother's Day inching closer, #boymoms just might find themselves turning to a Netflix movies about mothers and sons to indulge all the feels. Don't fight the instinct to settle in for an emotive movie session. It's therapeutic.
And while you could reach for your old standbys like Stepmom or The Blindside, Netflix has a host of films you might not have seen before that are just as touching, challenging, and thought provoking. From Netflix originals like Otherhood, a playful look at life after boys grow up and leave the nest to an international documentary on Franca Sozzani, the Italian Vogue editor created by her filmmaker son, there are unique and thoughtful films out there worth your time.
Why deep dive into your feelings surrounding mother-son relationships? Because it's such a unique, special, tricky, gut-wrenching, at times hilarious, and heartbreaking thing. And seeing your own life experiences play out on the silver screen can make moms feel not so alone in their own journey raising a son or sons. So go ahead and carve out a few hours to experience these movies. They might just make you appreciate your little boy even more.
The beauty of watching film depictions of some of the toughest and most touching times in a mother-son relationship is you can turn the movie off at the end and then go live your real life with your own boy, having learned a greater truth along the way. Now go give your son a big ol' squeeze.