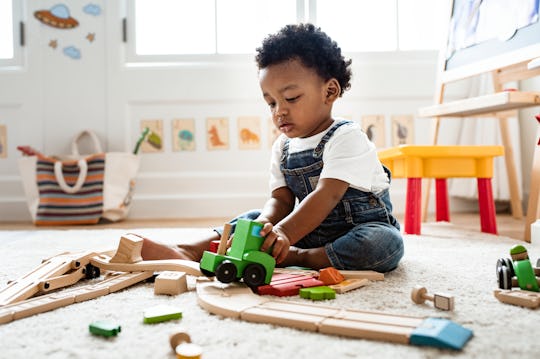 Shutterstock
These Movies & Shows Are Perfect For Your Train-Obsessed Kid
There's so much more than just Thomas & Friends!
When my brother was young, he'd hide in our parents' closet while everyone tore through the house looking for him. After a while, they'd found him quietly folded into his own world of being the driver of the train of adult shoes he lined up and carefully pushed to their imaginary destinations. No matter what fancy action figure he had to play with, his obsession with pushing things around that were connected required nothing bought from the children's toy section!
Some of the best movies and tv shows featuring trains came out after he'd outgrown his phase. But for every kid that loves to push their wooden pieces while singing "choo-choo," there's a show that will feed their fascination.
These massive mechanical transports didn't exist in the US until 1804, when the first train was built. And even if you can't picture this, the first version of a train was horses pulling crates on a treadmill. The evolution of locomotives has since made a huge jump to now having passenger bullet trains that can go up to 300mph.
If you mention the word "train" around children, they usually won't hesitate to associate it with Thomas and Friends or theme songs attached to many of these shows, which feature cargo trains, passenger trains, race trains, and animated locomotives that teach lessons on friendship, fairness, and having fun!