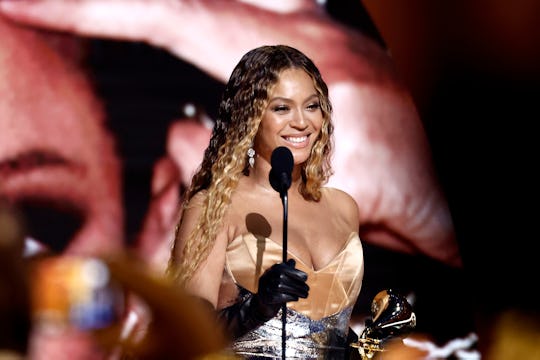 Emma McIntyre/Getty Images Entertainment/Getty Images
Beyoncé's Kids Got A Sweet Shout-Out As She Made History At The Grammys
Blue Ivy, Sir, and Rumi might've been watching at home, but their mom made sure they knew she was thinking about them.
The Carter kids got a special shout-out from their mom as they watched the 2023 Grammy Awards at home on Sunday night. As Beyoncé made history and now officially holds the most Grammy award wins of all time — a whopping 32! — the "Cuff It" singer made sure to thank her family on her big night.
"Thank you so much," Beyoncé began as she accepted her record-breaking Grammy award for best dance/electronic music album for Renaissance. "I'm trying not to be too emotional. I'm trying to just receive this night. I want to thank God for protecting me. Thank you, God."
"I'd like to thank my Uncle Johnny, who's not here. But he's here in spirit," she continued, referring to her late relative who died of complications from AIDS and to whom her Renaissance album is dedicated. "I'd like to thank my parents — my father, my mother, for loving me, and pushing me. I'd like to thank my beautiful husband, my beautiful three children who are at home watching."
"I'd like to thank the queer community for your love, for inventing the genre," Beyoncé concluded. God bless you. Thank you so much to the Grammys. Thank you."
As Beyoncé's held back tears on stage, her husband JAY-Z was beaming with pride in the audience.
On Monday, Beyoncé's father, Matthew Knowles, gushed about his daughter on Twitter. "Beyoncé, I'm so incredibly proud of you. Ever since you were a young child, you've wanted to make a worldwide impact in music. You had a dream, and the work ethic to make it happen," the proud dad wrote. "And you did. And you continue to do so. Congratulations on your historic, record-breaking night! Love you!"
This isn't the first time Beyoncé has thanked her three kids — 11-year-old daughter Blue Ivy and 5-year-old twins, Rumi and Sir — for their involvement in her Grammy-winning album. Back in August, she shared a rare photo of herself snuggling with her little ones in bed along with a sweet message.
"I want to give a special thank you to Rumi, Sir and Blue for allowing me the space, creativity, and inspiration," the "Break My Soul" captioned the photo on her website just after the release of her Renaissance album.
Indeed, from songs on her older albums like "Blue," "Boss," and "Lovehappy" and now to Renaissance, Queen Bey's kids have long been her inspiration. Here's hoping Blue makes a few more cameos on stage with her mom when Beyoncé goes on tour later this year.