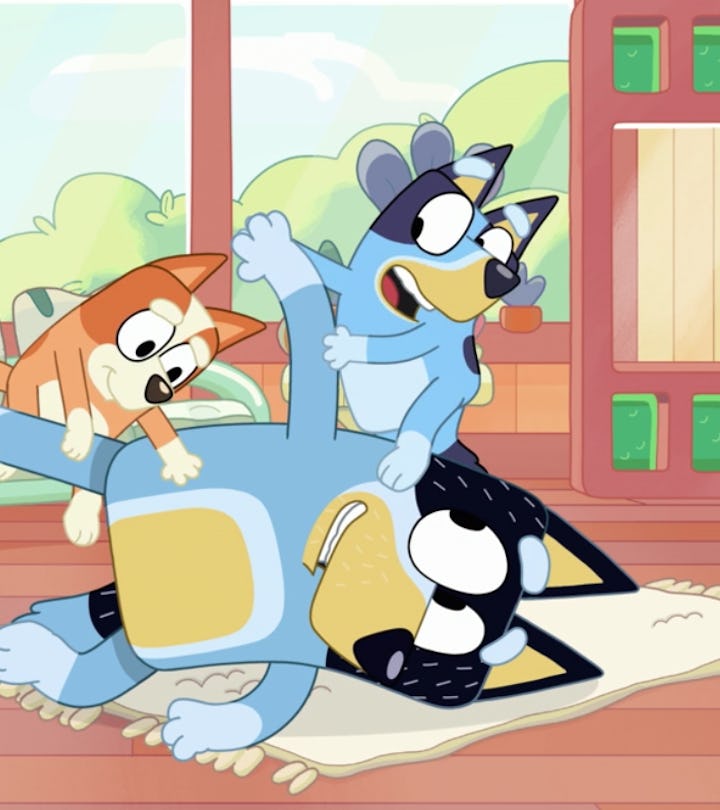 Disney+
10 Episodes Of Bluey That Prove Bandit Is The Best Dad Ever
Yes, even though he's a cartoon and a dog.
Bluey has captured our hearts over the past few years because even though the show is for children, it reflects parenting back to adult viewers in a way that makes us feel seen And, sometimes? Just a little inadequate. After all, who on Earth can compare with Bandit? Yes, he's a cartoon dog, but he's always so understanding and energetic and funny! In honor of Father's Day, we've rounded up some of Bandit's best moment with 10 Bluey episodes that show Bandit is the world's best dad... even though he's fictional... and a cartoon... and also a dog.
Series creator Joe Brumm is very aware that we're all quietly comparing ourselves to the Heelers. "That's quite a quite a common thing in my life now, people mentioning that they don't have the energy or patience of Bandit," he said in an interview with NPR. "And I think that's fair enough. I think he rarely is fully into the idea of playing with the kids. It's usually with a groan and, oh, man, not this game again. But the thing with Bandit is he still does it. And that's what I found I was doing. It's the most of my parenting life."
But there's a good reason we can't match the inimitable energy of Bandit. We're human... literally. "[Chilli and Bandit] are dogs," Brumm added. "Dogs, probably more so than any other animal, they just love to play. And so if they ever did start walking upright and talking, I think it's a pretty accurate representation of how much they would play with their kids."
So there you have it. No need to feel down on yourself: you can't help it! Still, it's nice to have role models, and Bandit certainly is that. Here are some of his finest moments.
Just remember: you're never going to live up to either a cartoon or a dog, much less a cartoon dog, but maybe Bandit's can-do attitude and cheerful disposition can inspire us all to be the best version of ourselves possible.