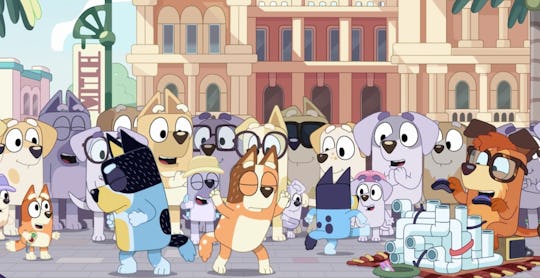 Disney+
Freeze! The Single From The New Bluey Album Just Dropped
(The first song is out now!)
If your kids love everything Bluey (like everyone else on the planet), they're going to be very excited about the upcoming Bluey - Dance Mode album. Jam-packed with 17 brand new songs from three seasons of the massively popular series about a family of Australian Heelers (as if you didn't already know), this is going to be one of those albums your kids will have on repeat... whether you like it or not... but be honest: you love it as much as they do and you probably will. While the album will not be available until April 21, the first single "Dance Mode," is available to stream now.
Bluey - Dance Mode is the follow up to Bluey: The Album that came out strong as a chart-topper in 2021. The original album was released on CD, Spotify, and even blue vinyl, and all of the songs were original compositions created by series composer Joff Bush, who appears in a special behind-the-scenes video for the album. While the initial album and its follow-up were most assuredly created for kids to enjoy, Bush did manage to create a truly enjoyable album by blending folk music, classical, and ska. "Bluey is an incredible world created from Joe Brumm's stories, and to help bring the musical part of that to life has always been thrilling," Bush said in a press release shared with Romper. "Each one of these tunes was written and produced from the heart. The secret sauce though is really the wonderful musicians, co-writers and collaborators I got to work with. Writing for kids and families really frees you from the shackles of trying to be cool or fashionable and just make music that connects. That's what I feel we are doing here."
We can expect more of the same from Bluey - Dance Mode, which will be available to stream and download worldwide on April 21, when it will also be available on CD and, this time around, orange vinyl. The album cover features one of Bluey and Bingo's favorite toys (and Chili and Bandit's least favorite toys): the singing-dancing, whirring, extremely loud Chattermax!
In all, there will be 17 songs on the Bluey - Dance Mode album including some high energy numbers at the beginning of the album like "Chattermax," "Cat Squad," and "Lollipop Yum Yum Yum," before mellowing out later with songs like "Rain (Boldly In The Pretend)" and "The Gnome Song." So a well-designed album that encourages your kids to get silly and get moving at first before calming them down with more cerebral choices later on.
That's genius. That's Bluey for you.