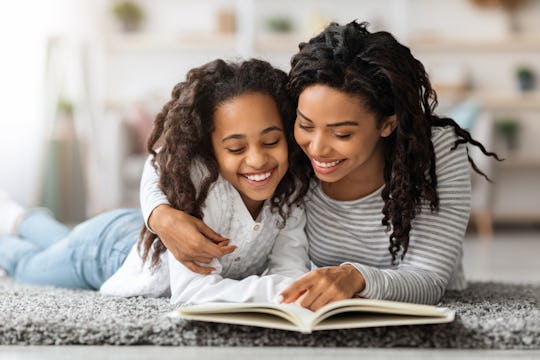 Shutterstock
15 Books That Help Create A Foundation Of Self-Love For Black Children
"Black children need to see their lives reflected in the books they read. If they don't, they won't feel welcome in the world of literature."
Black children are intelligent, kind, beautiful, curious, ambitious, and full of joy. The adjectives are pretty much endless, but as a Black mother, I can sum it up by saying they are amazing! But the scale is totally unbalanced in how the world shows them how wonderful they are, especially when it comes to Black representation in children's books.
Black children not only need to see themselves reflected in books about Black history, but they also need positive affirming images. While they aren't oblivious to how their blackness is viewed in the world, books that promote self-love, confidence, and self-awareness further equip them to be strong in knowing their worth as they navigate it. When a Black child knows what they're capable of and believes in themselves, their potential is endless.
Famous Black author Valerie Wilson Wesley said, "Black children need to see their lives reflected in the books they read. If they don't, they won't feel welcome in the world of literature. The lives of African-Americans are rich and diverse, and the books our children read should reflect that."
Black authors, like Wesley, have become a link in our community as elders to help guide and shape young Black minds by writing books to reinforce the beauty and power of our dark skin. These books show our children where they can claim space in the world and that it starts with loving who they are.
"Self-love is all about looking in the mirror and loving who you are and being excited about your future," Valerie Thompkins, author of Girls Like Me, tells Romper. Thompkins believes that building confidence "starts when you're little." As an author, she says books can provide exposure to the world, allowing children to know what's possible and to also realize, after seeing what others have accomplished, that it could be them, too.
"There's so much out there in the world, but not enough examples of positivity. Like to see Black characters in that main character role, in the leading role as the star of the show. It's even more important because there aren't as many examples of brown characters on TV in our classrooms. We don't have as many role models, and we need that representation," Thompkins says.
These books create a sound foundation for Black children. Loving themselves means enjoying who they are. In the pages of this lineup is a mix of Black children loving gardening, having fun while dancing, realizing all they can be, overcoming self-doubt, and growing from the love of their family and community.
We only include products that have been independently selected by Romper's editorial team. However, we may receive a portion of sales if you purchase a product through a link in this article.