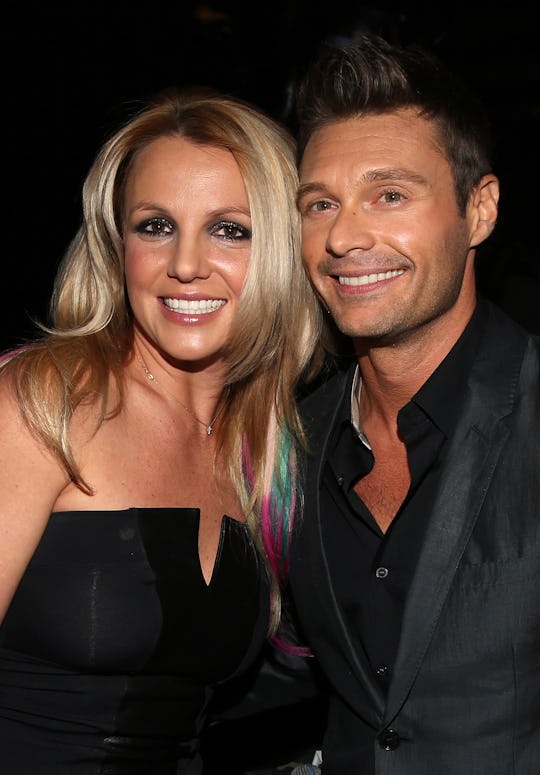 Christopher Polk/Getty Images Entertainment/Getty Images
Britney Spears Remembers Ryan Seacrest Questioning Her About Her Parenting In 2007
"It felt like that was the only thing people wanted to talk about: whether or not I was a fit mother."
Britney Spears is reflecting on her life and the people in it in her recently released memoir The Woman In Me. While she shared many stories about her childhood, Spears also called out the way some people have treated her in the past. Perhaps especially some members of the press who asked her some pretty unfair questions when she was not really able to defend herself. In fact, she wrote about a particular interview with Ryan Seacrest from 2007 that has stayed with her. Instead of asking her about her latest project, Seacrest questioned her about her parenting at a time when, as she writes in her memoir, she was struggling tremendously with postpartum depression.
In an excerpt from The Woman In Me, which was released on Tuesday, Spears recalled doing just one interview for her Blackout album in 2007. "The only press I did for Blackout was a live radio interview with Ryan Seacrest when it came out in October 2007," Spears writses, per Us Weekly. "In the interview which was supposed to be about the record, Ryan Seacrest asked me questions like, 'How do you respond to those who criticize you as a mom?' And, 'Do you feel like you're doing everything you can for your kids?' And, 'How often will you see them?'"
At the time, Spears was going through a very painful separation from husband Kevin Federline, who took over primary custody of the couple's two sons, 2-year-old Sean Preston and 1-year-old Jayden. And she was, as she wrote in The Woman In Me, experiencing "every symptom" of perinatal and postpartum depression. She shaved her head at the time, something that made headlines for weeks, with some people accusing her of being unstable. But Spears remembers being in "the throes of severe postpartum depression, abandonment by my husband, the torture of being separated from my two babies, the death of my adored aunt Sandra, and the constant drumbeat of pressure from paparazzi" in 2007. Right around the time Ryan Seacrest was asking her about her parenting skills.
"It felt like that was the only thing people wanted to talk about: whether or not I was a fit mother," Spears shares in her memoir. "Not about how I'd made such a strong album while holding two babies on my hips and being pursued by dozens of dangerous men all day every day."
Seacrest was by no means the only journalist who asked the young singer inappropriate or invasive questions. Diane Sawyer famously lambasted her over her relationship with Justin Timberlake after the couple (both in their early 20s) broke up in a 2003 interview that has not aged well. An interview Spears called her "breaking point" in The Woman In Me.