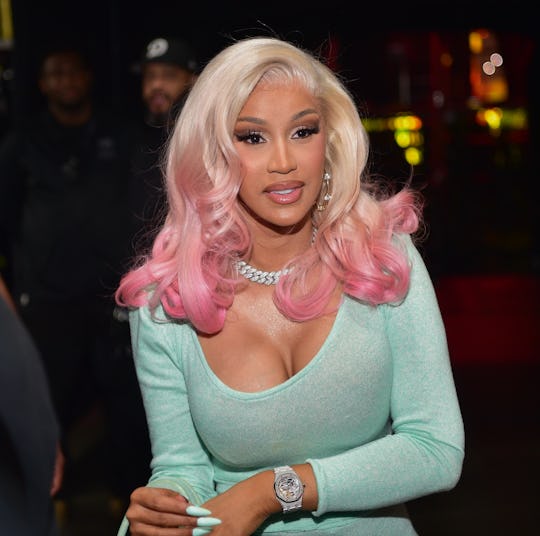 Prince Williams/WireImage/Getty Images
Cardi B's Daughter Kulture Graduates Preschool & Reveals Her Career Plans
They grow up so fast! It seems like just yesterday Cardi B was announcing the birth of her oldest child, Kulture Cephus, whom she shares with rapper Offset. And now the 4-year-old is off to her latest adventure: kindergarten. Cardi recently shared photos and video of the little girl's preschool graduation on Instagram and it was all just too cute.
The nine images include Kulture in blue robe and mortar board cap over an adorable poofy pink dress. In some pictures, Cardi gives her big hugs in a sharp grey suit with neon yellow accessories. In another Kulture is cuddling the family Pomeranian, Fluffy. One picture shows her beaming while holding her special award for "Best Dance Moves" (must run in the family), and in another she and Cardi are celebrating her milestone with giant elaborate milkshakes. There's even a video of her walking to receive her diploma.
"My baby moving on up," she wrote alongside the images. "I'm a emotional proud mommy. Give me good grades and I'll give you the world baby."
Look, basically anything Cardi B does is charming and anything Kulture does is going to be adorable. But this whole graduation just looked so normal. "Celebrities are just like us!" is a common refrain but most of the time it definitely doesn't feel like it. This really did feel like it could have been any preschool graduation ceremony anywhere in the U.S.
On her Instagram Story, Cardi posted a video of a moment in the celebration where Kulture declared her future profession. Confidently walking up to the microphone, wearing a white lab coat, she declared, "When I grow up, I want to be a doctor." This was met with loud cheers, and you could hear Cardi above them all.
It was a special day, and it seems to be a season of exciting events for Kulture. She was recently seen at the world premiere of The Little Mermaid with dad Offset and 8-year-old big sister Kalea. The dresses? On point, and not only on point but coordinated to complement one another and their dad's Prince Eric inspired suit. The hair? Colored red for the occasion, naturally. It looked like the perfect Daddy-Daughter evening.
And all this before she even turns 5 this July! Congratulations, Kulture: you're clearly on your way to (even more) great things.