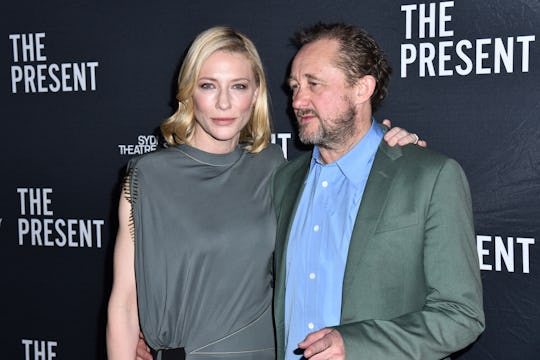 Jared Siskin/Patrick McMullan/Getty Images
Cate Blanchett Has Been Married For 25 Years & Is A Proud Mom Of 4
The Australian actress' kids have the coolest names.
Cate Blanchett is such a chameleon as an actress, it's easy to imagine her in almost any kind of role. An elf queen, a passionate orchestra conductor, a villain. A mom of four. Actually, that one is kind of difficult to imagine. Perhaps because Blanchett has done such an incredible job of keeping her role as mom separate from her career as an actress. Mostly, at any rate. There has been some overlap, especially now that her kids are older and getting curious about the family business. Here's a look at what she's shared about her husband and kids.
She's been married to her husband, Andrew Upton, for more than 25 years.
Cate Blanchett was a young actress when she first met fellow Australian and playwright Andrew Upton when they were working on a production of The Seagull in 1996. They married one year later and, rather miraculously by Hollywood standards, have been together ever since. The pair work together fairly often, which has apparently helped their relationship immensely. In 2015, Blanchett told E!, "It's been a great creative partnership with my husband and also a great love affair. Working together, running a creative company in Australia. It's been fantastic."
They welcomed their first child, son Dashiell, in 2001.
Blanchett and Upton became first time parents when son Dashiell was born in 2001, and he showed signs of inheriting his parents' creative talents from an early age. Blanchett told People that Dashiell was "performing his own version of Hamlet" by the time he was 8 years old, and now that he is 21, he is currently attending film school.
Their son Roman joined the family in 2004.
Blanchett's son Roman arrived in 2004, and he has been known to offer his arm to his mom as a date at formal functions on occasion. Like in 2014 when he walked the red carpet at the Critic's Choice Awards. She and husband Upton might not be intentionally trying to sway their kids' career choices in a creative direction, but Blanchett did tell Jimmy Kimmel in 2015 that she named her son Roman because it's "the French word for book."
Their third son, Ignatius, got his name from Captain Underpants.
When Blanchett and Upton welcomed their third son in 2008, they gave him a very unique name. Ignatius. And it's a name Blanchett found while reading Captain Underpants to her older sons. "I was eight months pregnant and hallucinating," she told People at the time, "and there's a section in the book where he gets so upset that everyone teases him because his name is Professor Pee-Pee Poopypants that he forces the world to change their names. They have this interior code, and they give these examples of names. You go down to 'I' and the example is Ignatius. It was like the Virgin Mary going 'Boom!'"
Daughter Edith completed the family in 2015.
After being a boy mom for 14 years, Blanchett gave birth to daughter Edith in 2015. And her sons could not have been happier to have a little sister. "I find it extraordinary, glimpsing them becoming a unit. And a very welcoming unit," the proud mom of four told the Sydney Morning Herald in 2015. "I'm very proud of them."
Her daughter put her to work for remote learning.
When lockdown measures saw parents trying to home school their kids, Blanchett found her daughter less than enthused about the process. So much so that she was forced to dress as her daughter's teacher in order to get her to learn. "She wouldn't start the classes until we had a full array of stuffed animals, all of which had the names of all the people in her class," she explained in 2021. "It felt like some weird kind of cross between The Muppets and MasterClass. It was quite traumatic actually."
Fortunately for Blanchett, she's got plenty of experience as both a mom and an actress under her belt. I'm sure it was the performance of a lifetime.