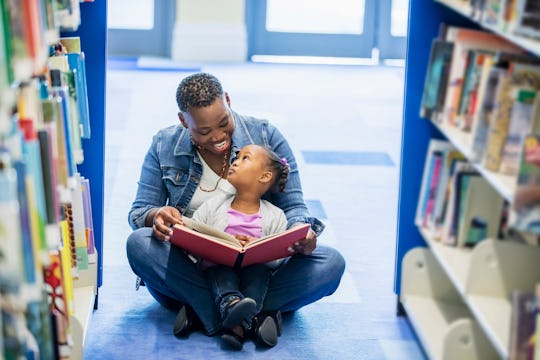 kali9/E+/Getty Images
17 Children's Books That Help Kids Deal With Big Feelings
"Feelings are never wrong."
Reading to our children at an early age feeds their imagination and opens up their mind's eye to the possibilities in the world. But books can also help them make sense of how they feel and what they're going through, which is why having some books about coping with emotions on their shelf can give kids an early start to facing their feelings and learning how to deal with them.
"Just encouraging children to label their feelings and to learn what that jumble of emotions, physical sensations, and thoughts inside of them — anger, anxiety, sadness, etc. —  is a great place to start," Daniela J. Owen, Ph.D. tells Romper. Owen is a child psychologist and author of the children's book series, Right Now, and over the past year, she has personally seen a rise in mental health issues, especially for elementary school-aged children. "During the pandemic, I have gotten lots of calls from parents of younger children with panic attacks. Anxiety is up, as is depression in communities where children have spent the past year away from peers and friends, and in some cases rather isolated from anyone other than their families."
Having to deal with these feelings can be overwhelming for adults, but for young children who aren't mature enough to wade through their emotions healthily, inevitably, some sort of meltdown follows. "Having parents validate all feelings their children experience is really important. Feelings are never wrong. What a child does in response to a feeling can be wrong, but the feeling itself is never wrong. For example, hitting your sister because you are mad is not OK, but feeling mad is OK."
Books are an effective tool to convey these messages to children. They can take an adventure with colorful characters, journey through their experiences, and by the end, learn different ways to cope.
Owen is just one of many children's book authors who write about dealing with big feelings. She started her series as a guide for children and adults to help them with the process of children being able to label their emotions and help adults understand how to respond appropriately. This list of books covers a wide range of emotions and includes recommendations by Owen.
We only include products that have been independently selected by Romper's editorial team. However, we may receive a portion of sales if you purchase a product through a link in this article.