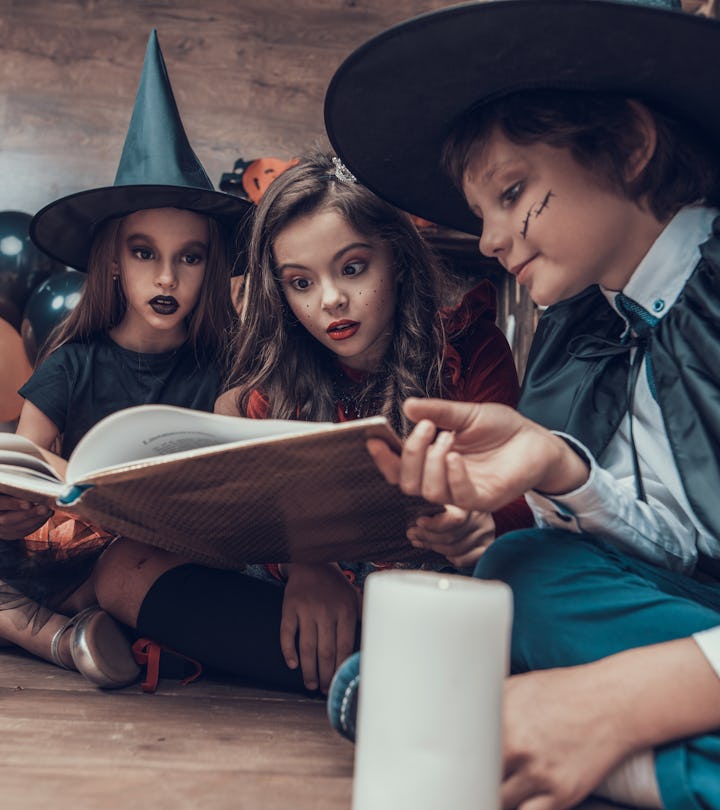 Shutterstock
20 Magical Children's Books About Witches For All Ages
They're great for Halloween and beyond.
As we prepare to celebrate Halloween, it can be fun to give everything a little bit of a spooky twist — even reading time with the kids. If your little ones love to read or be read to, then you've probably already stocked up on some great books about Halloween. But if those are starting to get stale, there's another option: children's books about witches. There are so many to choose from, whether you want to read something cute to your toddler or have your tween read something magical and kind of creepy.
Witches can be a quintessential part of Halloween, especially if the image they conjure up is one of straw hair, a pointy hat, long black robes, and a broomstick. But witches and witchcraft have a much longer and more interesting history than that. Records of witches (usually women doing evil spells and calling upon spirits to do their bidding) have been around since B.C. times and are even found in the Bible. This makes them a pretty fascinating part of history, so definitely a good subject for a kid's book!
If your child is interested in reading more about witches in any form, get them started with these magical books about witches. At the very least, it will get them ready for Halloween!
We only include products that have been independently selected by Romper's editorial team. However, we may receive a portion of sales if you purchase a product through a link in this article.
Read these through Halloween to really get in the spooky spirit of things! But the great thing about almost all of them is that they're perfect for any time of the year... especially for the kids who like things on the creepy side.