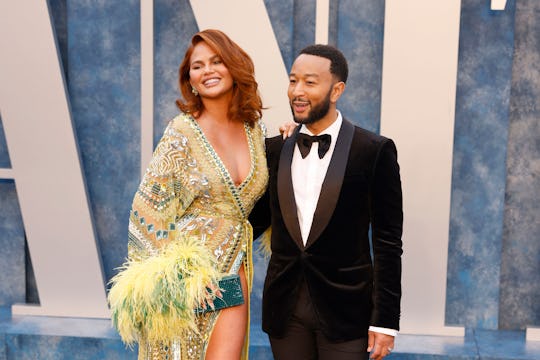 Robert Smith/Patrick McMullan/Getty Images
Chrissy Teigen & John Legend Welcome Baby Boy Via Surrogate 5 Months After Esti
Chrissy Teigen and John Legend are officially parents of four. The Cravings cookbook author announced on Instagram that she and her husband welcomed a fourth baby, a little boy named Wren, via surrogate on June 19, about five months after Teigen gave birth to the couple's youngest daughter Esti.
Teigen introduced her baby boy, who she shares with Legend along with 7-year-old daughter Luna, 5-year-old son Miles, and baby girl Esti, in an emotional post on Instagram. She explained that she didn't think she would be able to carry a baby to term after the heartbreaking loss of the couple's son Jack in 2020, and reached out to a surrogacy agency to discuss the option of "tandem surrogacy," with two surrogates carrying babies for the couple at the same time.
Around the same time, Teigen decided she wanted to try IVF "just one more time," as it was the same process that "gave us our beautiful Luna and Miles." The treatment was successful and baby Esti Maxine was born in January. Meanwhile, the couple met their "incredible, loving, compassionate surrogate" Alexandra.
After meeting Alexandra, Legend and Teigen decided to proceed with the surrogacy. "I wanted our children to play," she wrote. "I wanted dinner together. I wanted to lay my head on her belly and feel the hiccups and kicks."
As Teigen crept towards "the safe zone of my pregnancy," she and Legend found out that their surrogate was expecting their little boy. "We ate hot pot to celebrate, watched Vanderpump Rules with our growing bellies, our families blending into one for the past year," Teigen wrote. And on June 19, Teigen watched her new friend give birth to the couple's baby boy, Wren Alexander Stephens.
"Our hearts, and our home, are officially full. And to our Jack, we know both their angel kisses are from you," the mom of four concluded in a sweet note to the baby boy she lost, referring to the birth marks both of her children carry, which are frequently referred to as angel kisses.
The Legend/Teigen household sounds awfully busy these days. And filled with so much love.