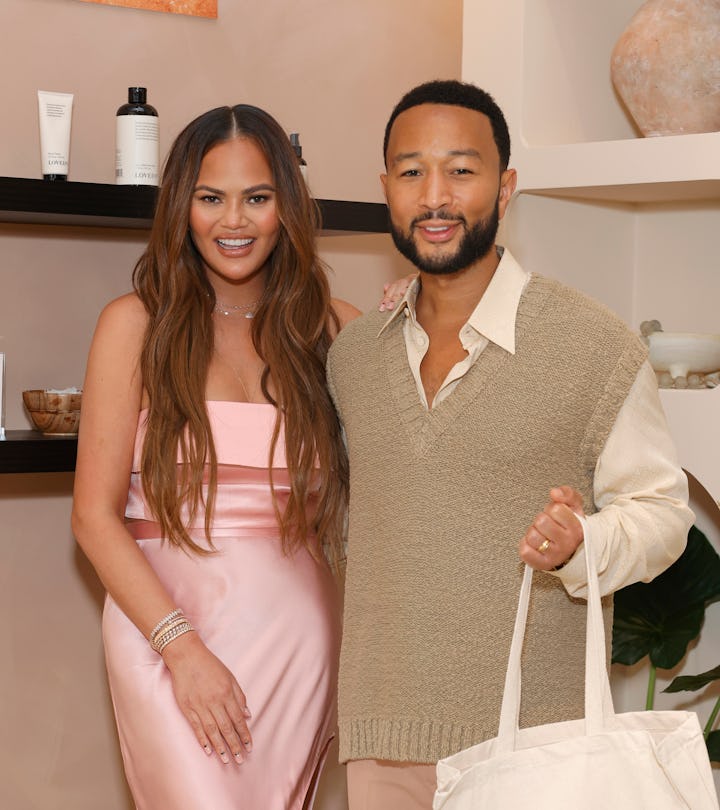 Stefanie Keenan/Getty Images Entertainment/Getty Images
Chrissy Teigen Worries Miles & Luna Won't Feel "Loved" With New Babies Around
With two infants in the house, it can be hard to find enough attention for everyone.
Now that Chrissy Teigen is a mom of four, her days are fuller than ever. She and husband John Legend are both doing their best to make sure all of their kids are getting as much attention as possible, but she worries that it's not quite enough.
The Cravings cookbook author welcomed two new babies to the family with Legend this year, 7-month-old daughter Esti and 2-month-old son Wren, who was born via surrogate. In a recent interview with People, Teigen opened up about her biggest struggle as a mom of four, and it concerns her 7-year-old daughter Luna and 5-year-old son Miles more than her babies. "For me, the hardest part is making sure the older ones feel loved and taken care of and just as special as the babies, even though you might have your hands on the babies a lot more," she told the outlet.
The busy mom went on to add that there has obviously been a lot of diaper changing "and it seems like you're coddling these two little babies and [the older two] not getting enough. I was speaking with my therapist and I was like, 'I'm having a hard time because I want to make sure that Miles and Luna feel like we still love them.'"
While she worries about her kids, Teigen knows that "any parent of multiple kids can understand that you want to make sure they still feel loved." And how!
Teigen has always been transparent about getting lots of help at home with her kids, even dedicating this year's Mother's Day post to her childrens' nannies with a message reading, "Grateful for all the people who make it possible for me to be the best mother I can possibly be. I am endlessly thankful for your presence in this home and all our lives. we love you."
Even with all the support she enjoys, Teigen still worries that she's "never going to give enough" to her kids.
"They're always going to ask for more, so it's important to give them the things they need but also support yourself so you don't go crazy," she told People. "I didn't grow up around babies or children, so seeing my children experience a world with littles coming in, I see how that could be hard for them."
It's a tale as old as time: mothers worrying about not doing right by their kids. But there's a melancholy comfort in knowing that it's a pretty universal feeling, no matter what we do or who we are.