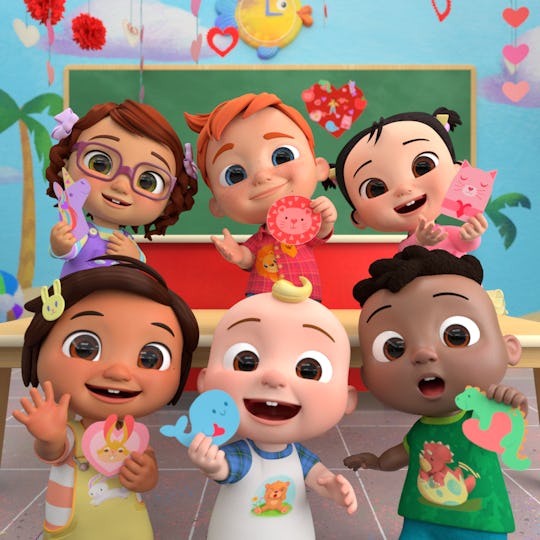 Moonbug
CoComelon Just Dropped An Adorable New Valentine's Day Song
Romper's exclusive look at the music video is pretty catchy!
What do toddlers love more than Valentine's Day, the day that is all about pink and red heart-shaped candy? JJ and the rest of the CoComelon gang from the melon patch delivering a brand new song for Valentine's Day, of course. And best of all, Romper has an exclusive first look at the new song's music video that will surely have your little ones dancing along.
In the new music video for the song "I Love You Dance Party," Cece, Cody, and Nina get together to try out a cute little choreographed dance. They hop on top of a big watermelon with a rainbow in the background and sing about all the reasons they love each other. "I love that you skip and play with me," they sing as two little otters drift on by on a rainbow road. "I love that you dance with everyone," Cece, Cody, and Nina sing as they show kids how to do their easy to follow dance steps. "I love that you're so much fun!"
As always, and perhaps one of the most helpful elements of any CoComelon music video for parents and caregivers watching along, the words pop up on the bottom of the screen. Easy to follow, easy to repeat, easy to love. And let's not forget the constant giggling, in case kids needed a reminder that this is all meant to be fun and happy. It's a winning formula.
The "I Love You Dance Party" music video isn't the only way CoComelon is celebrating the big day of love. If you think your kids would love to receive a cameo from CoComelon's JJ, you can get 15% off a custom cameo by using code "15OFF VDAY" here. Just imagine how much they would love to hear JJ say their name in a personal message for Valentine's Day. You'd be a popular parent with that little gift for sure.
CoComelon has really stepped up the holiday game recently, with not just one but three big Halloween episodes premiering last year on the CoComelon YouTube channel. Then there were the Christmas songs, and now a new Valentine's Day song that is surprisingly catchy. With the simple, rather beautiful sentiment, "On Valentine's Day we show we care, we all have fun, we laugh and share. On Valentine's Day, here's what we do. We tell our friends, 'I love you.'"