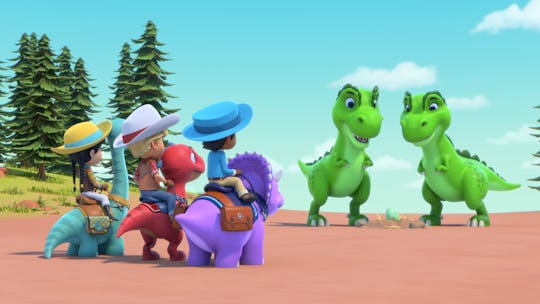 Boat Rocker Studios
Disney Junior's Dino Ranch Teaches Kids About Adoption In This Exclusive First Look
It's appropriately called "Adoptasaurus Rex"!
From the very first episode of Dino Ranch — the show about a farm/dinosaur sanctuary run by the Cassidy family — adoption has been part of the conversation. The central characters, Jon, Min, and Miguel, are adopted siblings. But while previous episodes have been more focused on their adventures on the ranch with their dinosaur pals (because, come on: dinosaurs!), an upcoming episode, "Adoptasaurus Rex," puts adoption front and center. Romper got some insight from show creator Matt Fernandes and an exclusive look at the episode. (It is truly adorable.)
After Ma and Pa share the story of how the siblings were adopted, the young ranchers are inspired to help two would-be daddy T-Rexes get an egg of their own. Of course, if you've ever tried to get close to a T-Rex (and who among us hasn't?), you'll know that it's no easy feat! The kids must face multiple obstacles and a whole discouragement in achieving their task. But, spurred on by love of the dinos, they get creative and persevere.
For Fernandes, this story not only made sense as part of Dino Ranch's underlying themes of family togetherness, but also felt personal. "Families can look different and be different," he tells Romper. "My parents are of two different ethnicities — my father is Black and my mother is Caucasian — from a young age, I've been given the opportunity to see the mix of different ethnicities and cultures come together, and that has always been an important topic for me. We can all come from other places, or be different genders, and still be a loving supportive family in this world. This episode truly encapsulates that important message."
In this sneak peek, Min, Miguel, and Jon stumble across two T-Rexes looking longingly at egg-shaped rocks when they realize: they want to be daddies!
"The strength of family is always at the core of our show," says Fernandes, who notes that we can expect more episodes like "Adoptasaurus Rex" in the future.
"My hope is that kids and parents can have a dialogue about the fact that families come in different shapes and sizes, or that they can see a family unit that resembles their own," he says. "It's love that binds us, not birth. My main hope is that kids will see this episode's theme as something that is just normal, instead of standing out as being different."
Dino Ranch is available on Disney Junior and DisneyNOW and all past episodes can be streamed on Disney+. "Adoptasaurus Rex" will premiere on Friday, Feb. 25 at 1:30 p.m. PT/ET on Disney Junior and DisneyNOW.