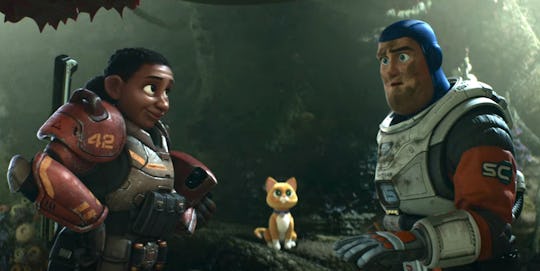 Pixar
Pixar's Lightyear Has A New, Time-Warping Trailer
New characters and more plot points have been revealed in the latest peek at the film!
It's the origin story we've all been waiting for. Buzz Lightyear, the egotistical astronaut action figure from the Toy Story film series will be getting his own origin movie in Disney and Pixar's Lightyear. Buzz Lightyear made his big screen debut in 1995's Toy Story with his iconic space suit and chin dimple. Now, with Lightyear, fans get to learn even more about the beloved Disney character. And lucky us, Disney and Pixar just released a brand new look at the movie, which includes new characters, a big character we've been waiting to see, and a plot twist we did not see coming!
Lightyear is Buzz's origin story.
This sci-fi film "presents the definitive origin story of Buzz Lightyear — the hero who inspired the toy — introducing the legendary Space Ranger who would win a generation of fans," according to Pixar. So, Lightyear won't focus on the toy, but the person named Buzz Lightyear who inspired the toy.
Pete Docter, Pixar's Chief Creative Officer, explained that Lightyear isn't really a Toy Story film. "At first glance you might think, 'Well this is a Toy Story film.' Well, not so fast," Docter said. "See, back when we created the very first Toy Story, we designed Buzz Lightyear with the idea that he was a toy based on some really cool character from an epic, blockbuster film. Well, all these years later, we decided it's time to make that film."
A poster for Lightyear shows Buzz walking Top Gun-style down a tarmac and away from a plane. Also there looks to be a whole different world behind him, but most importantly he has a very serious brow and, most noteworthy of all, a full head of hair.
A brand new trailer for Lightyear dropped on April 21.
While a trailer that aired during the Oscars teased at the kind of slapstick-y humor we'd expect from a character based on Toy Story, this latest peek at the film showed us new characters (voiced by Keke Palmer, Taika Waititi, and Dale Soules), a new plot twist (this is a time warp movie?!), and the appearance of Buzz's sworn enemy, the dreaded Emperor Zurg.
Chris Evans stars as Buzz.
In addition to getting a bit of an updated look, Buzz is getting some updates to his voice, too. Captain America star Chris Evans will be voicing Buzz Lightyear for the first time, replacing Tim Allen who lent his voice to the action figure in all four of the Toy Story films.
Florida's "Don't Say Gay" law reportedly had an impact on LGBTQ+ representation in Lightyear.
Disney has come under fire recently for having financially supported lawmakers who promoted HB 1557, better known as the "Don't Say Gay" bill. When pressured to make a statement, Disney CEO Bob Chapek released a company-wide memo, stating that the company's "biggest impact" lies in "creating a more inclusive world is through the inspiring content we produce."
But LGBTQIA+ Pixar employees issued their own letter to Disney, alleging that "nearly every moment of overtly gay affection is cut at Disney's behest, regardless of when there is protest from both the creative teams and executive leadership at Pixar." The letter continued, "Even if creating LGBTQIA+ content was the answer to fixing the discriminatory legislation in the world, we are being barred from creating it."
As a result, Variety has reported that a scene in Lightyear featuring a same-sex kiss between a significant character, Hawthorne (voiced by Uzo Aduba), and her partner was reinstated after having been previously cut.
Lightyear will premiere in Summer 2022.
This brand new movie will premiere on June 17, 2022.
You can stream the Toy Story Collection on Disney+ now.
While you wait for Lightyear to premiere, you can catch up with Buzz and all of his catch phrases by streaming all four Toy Story films on Disney+. But if you want to get more buzz about Buzz, you can watch the extensive collection of Toy Story Toons and Toy Story short films.
This article was originally published on